It's that time of year when goal-setting and resolution-making kick into high gear. As Christians we are no strangers to new beginnings. Yet, too often, we fall prey like so many and fail to realise the power of God at work in our lives.
Forget the former things; do not dwell in the past. See, I am doing a new thing! Now it springs up; do you not perceive it? I am making a way in the desert and streams in the wasteland. Isaiah 43:18-19
I'm convinced that God's power is the ultimate source for us to tap into as we plan our next year. It is also my firm view that we should approach goal-setting in a way that reflects our faith.
My prayer is that with goal-setting (and every other area), we will experience God's power at work in our lives.
I pray that the eyes of your heart may be enlightened in order that you may know the hope to which he has called you, the riches of his glorious inheritance in his holy people, and his incomparably great power for us who believe. Ephesians 1:18-19
Now, it's one thing to say we want to experience God's power, it's another thing to actually apply that power to our lives. As I approach my New Year I'm devising a plan that taps into that ultimate power-source which I'm sharing with you.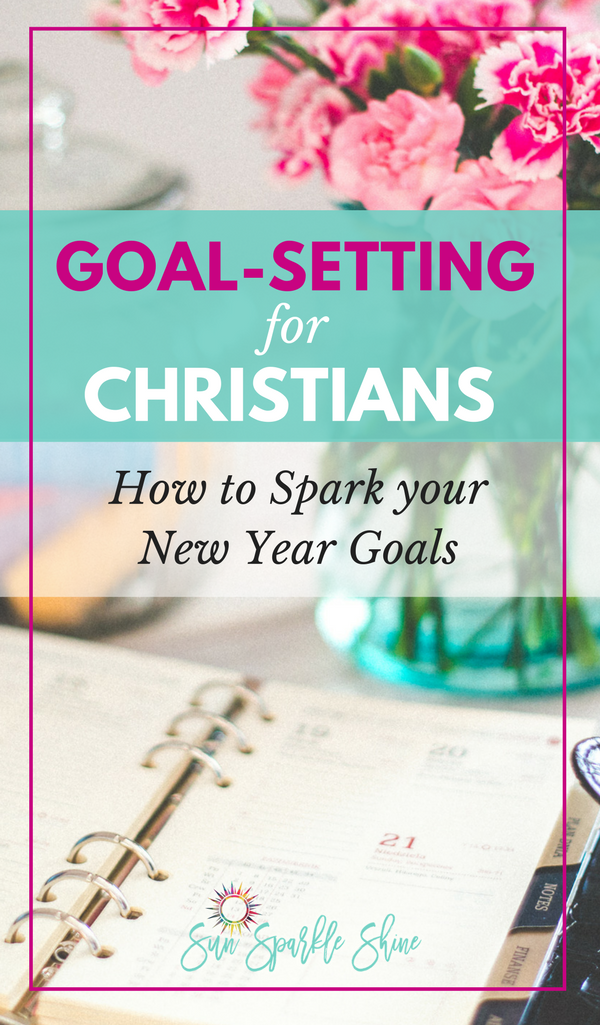 My goal-setting plan for the upcoming New Year is based on:
my own experience with goal-setting;
my professional experience as a strategic planner (yes, one of my many hats);
tips from leading experts in the area; and
the good old, power-packed Word of God.
I pray that this will inspire and empower you on your own goal-setting journey.
In a nut shell my plan has five steps:
Pray
Choose One Word
Set Goals
Envision it
Live it
Here are the details:
1. Pray
God has a plan and a purpose for each one of us. I've learned the hard way what it feels like to live outside of God's plan and I certainly don't want to go down that road again. So as I make plans for the year the first thing I aim to do is seek God's will. I approach him in prayer fully expecting that He will lead and guide me.
For we are His workmanship, created in Christ Jesus for good works, which God prepared beforehand that we should walk in them. Ephesians 2:10
2. Choose One Word
It is usually during one of my intentional goal-setting prayer times that God gives me focus. I love having a word for the year to meditate on and guide me throughout the year. This past year my word was ENOUGH and God showed up time and time again to remind me that He is enough for me.
For inspiration in choosing your One Word visit One Word 365.
3. Set Goals
This is the real meat of the matter. And truly, goal-setting really isn't as painful as we make it out to be, unless of course you're trying to go it alone. When God is at the helm, you've prayed through His will for you and sought his direction, it makes all the difference. You can then step into your year with a sure foundation.
For some practical goal-setting tips see 7 Ways to Set Goals like an Expert.
It is there that I also talk about a resource that I found last year called (aff) Grace Goals. This is the revolutionary way to approach change developed by my blogging mentor Arabah Joy.
Arabah has compiled a PDF containing 5 mini-workshops that will take you through the process of:
Setting practical, godly goals
Developing a doable, personal plan for change
Learning why grace is the enablement you need
Recognizing and appropriating grace in your daily life
And much more
Grace Goals can be purchased any time during the year, just as we can set goals any time of the year. In the next few days, however, there is a special bonus when you purchase Grace Goals between 15 December and 23 December. Keep reading to find out more.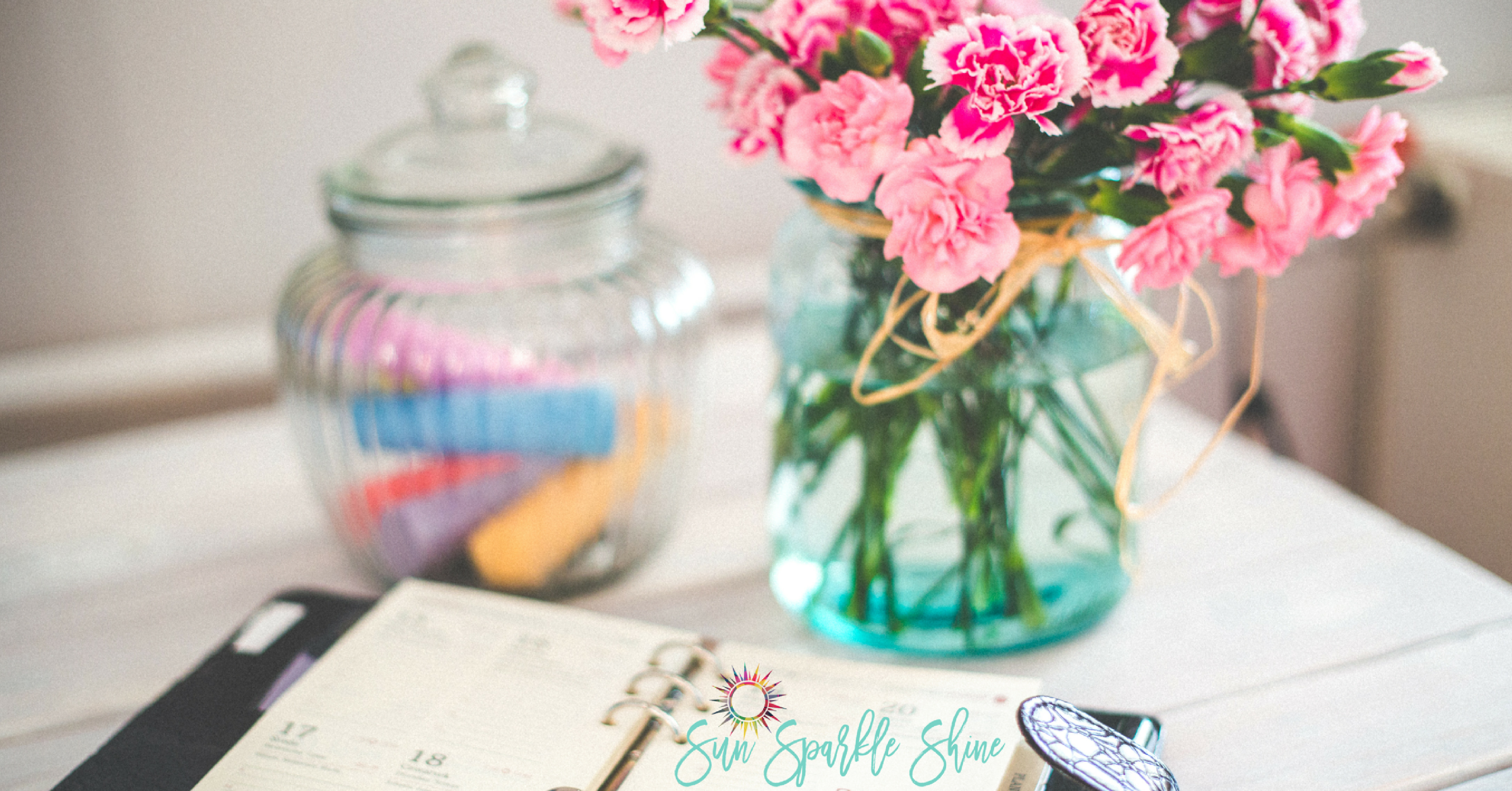 4. Envision it
Part of my goal-setting process for the past 3 years involved creating a Vision Board. I incorporate my One Word as well as images of my envisioned future.
A vision board is a powerful tool to keep you inspired throughout the year. One glance at your vision board reminds you of the journey you're on and motivates you to keep going.
Even if you feel you're not the creative type having a visual of your goals will help. Consider what goal-setting guru Michael Hyatt does. He keeps a typed list of his goals framed and displayed in a prominent place. He's convinced that doing this one thing makes him more productive by far. And we have to admit, he's one pretty productive guy.
5. Live it
With your goals in hand, it's time now to live them out. To help keep me on track this year I developed my Goals Planner to document my goals and measure my progress month by month.
This new resource is available for free to anyone who purchases Grace Goals using my link during the promotional period 15 – 23 December.  Just email me your receipt at sunsparkleshine<@>gmail<dot>com and I'll send it to you. Plus you'll get a few other surprise bonuses from Arabah too.
Here's a sneak peak of the Goals Planner: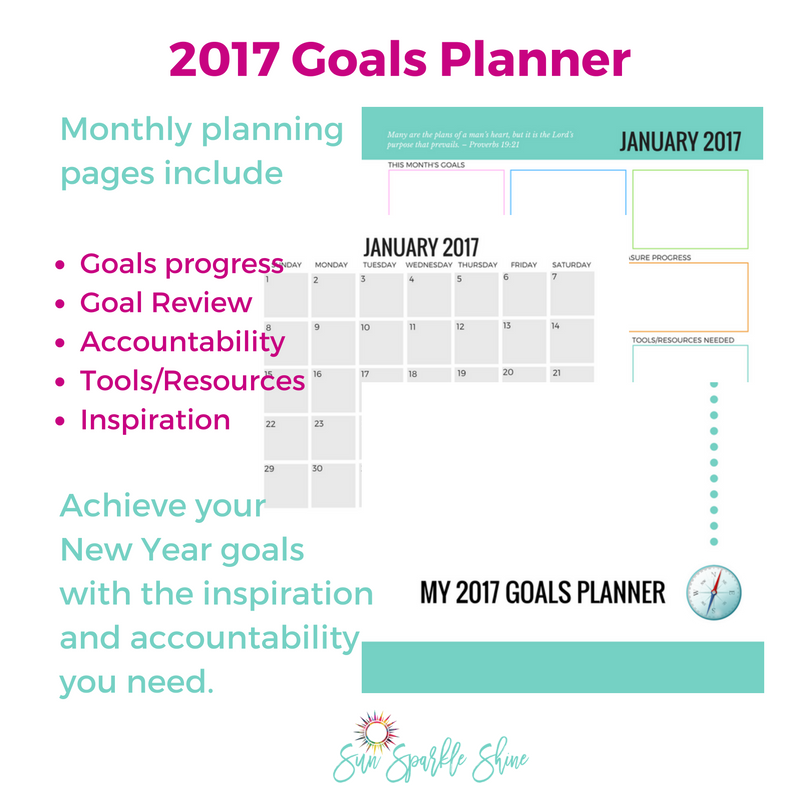 As you live out your goals, remember to have fun. Life, after all, is meant to be lived to the full.
The thief comes only to steal and kill and destroy; I have come that they may have life, and have it to the full. John 10:10
Also remember to add grace. They're called goals for a reason and by the very nature of the word, goals are something we're always striving for. Should you fall short, grace abounds.
What about you?
What's your plan for the New Year?
Are you excited as we prepare to enter 2017? I hope you are, and if not, I pray that these 5 steps will be the motivation you need.
Don't forget that you can get your bonus Goals Planner when you purchase Grace Goals here by December 23.
Missed the promotion? Don't worry you can purchase Grace Goals any time during the year. Also be sure to snag your copy of the 2017 Goals Planner at the low introductory price. 


Wishing you blessings, 

Please spread the shine and share this with your friends using the share buttons below. 
And if you're looking for more encouraging and inspiring content, check out these amazing sites where I link up my weekly posts.
---
Are you ready for a fresh start? Join me here!