Have you ever felt helpless in your attempts at conquering fear?
For today's #SummerSizzleBlogHop feature I welcome my friend, Valerie Murray, who's on a mission to help women conquer their fears. I've seen firsthand how she victoriously fought her most recent fear battle and I can tell you that this woman is an overcomer. I completely believe that you will be blessed by her message.
By the way, throughout June and July, I'm featuring eight of my Christian blogging friends. We've pulled our best Christian faith content from our treasure chests to encourage you this summer. Be sure to stop by next week to see who's in the #SummerSizzleBlogHop spotlight.
Today, it's Valerie's turn to shine.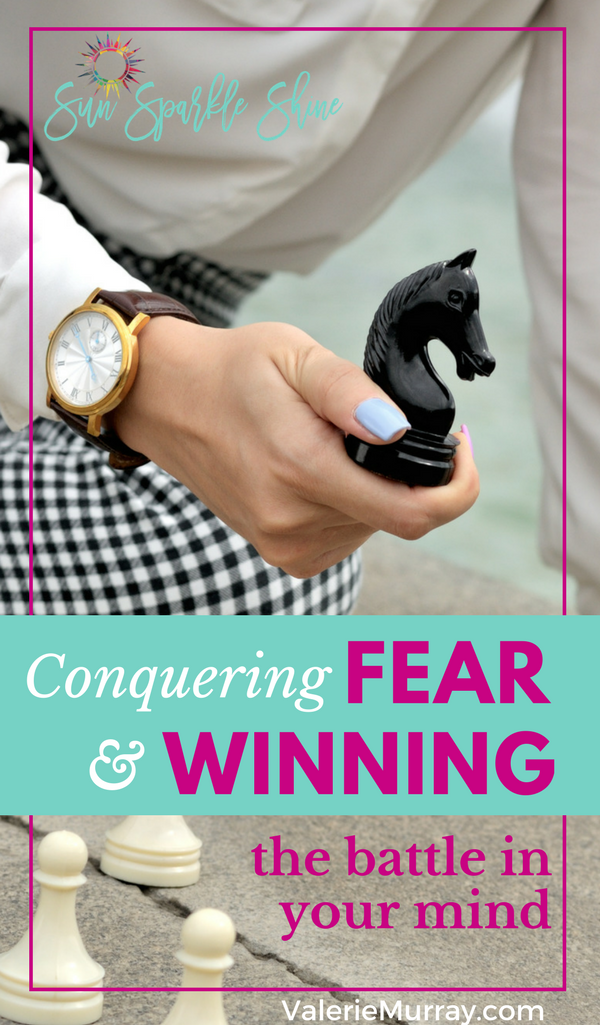 Conquering Fear when Storms Roll In
I almost didn't send my son to Science Camp.
The arrows of fear were attacking me big time.
We were in the middle of a fierce storm that was all over the news. Supposedly the worst storm to hit California in 10 years. Mudslides and flooding expected.
The transportation to get to camp? The form said students would be traveling in "late model school buses" to save money on camp. The buses would be "filled to max capacity with 3 kids sitting per seat."
Don't they know I'd rather pay more for those big sturdy coach buses to ensure the safety of my child?
I remembered the moment I saw the same old model buses without seatbelts when I sent my daughter to camp in the rain a few years back.
But this storm was supposed to be huge. Sometimes decisions like these aren't easy. I prayed for God to give me wisdom. Was it wise to send my child to outdoor Science camp in the middle of a storm? On a late model school bus without seatbelts? Or was I allowing fear to determine my decision?
I woke up that morning after hearing the rain pouring down all night and read verses on fear. I asked for prayer from my prayer warrior friends.
And I sent my son off to camp.
I  pictured my son being one of the few kids who actually showed up because just maybe every other mom would keep their child home to keep him/her safe. But the gym was packed full of parents and kids!
And to be honest, it didn't really seem like the storm was as bad as the news made it out to be.
There was even a break in the storm when they left.
And my son was so happy to be with his friends. He couldn't wait to explore the tidepools and see starfish.
And those old buses?
They had seatbelts now!
I gave him lots of hugs and felt so much peace knowing how much fun he'd have there.
One of the best ways to fight fear is by training our minds with the truth of God's Word.  That way, when our thoughts are attacked by the arrows of fear, we can combat them immediately.
Last year I did a Word Study and looked up every verse that contained the word fear or afraid in the Bible.
These verses really help me when my mind wanders to the what if's of sudden disaster.
Equip your mind to battle fear with scripture!
13 Scriptures for Conquering Fear
My favorite verse to fight fear is Proverbs 3:25-26 because it tells us that we don't have to be afraid of the those worst-case scenarios.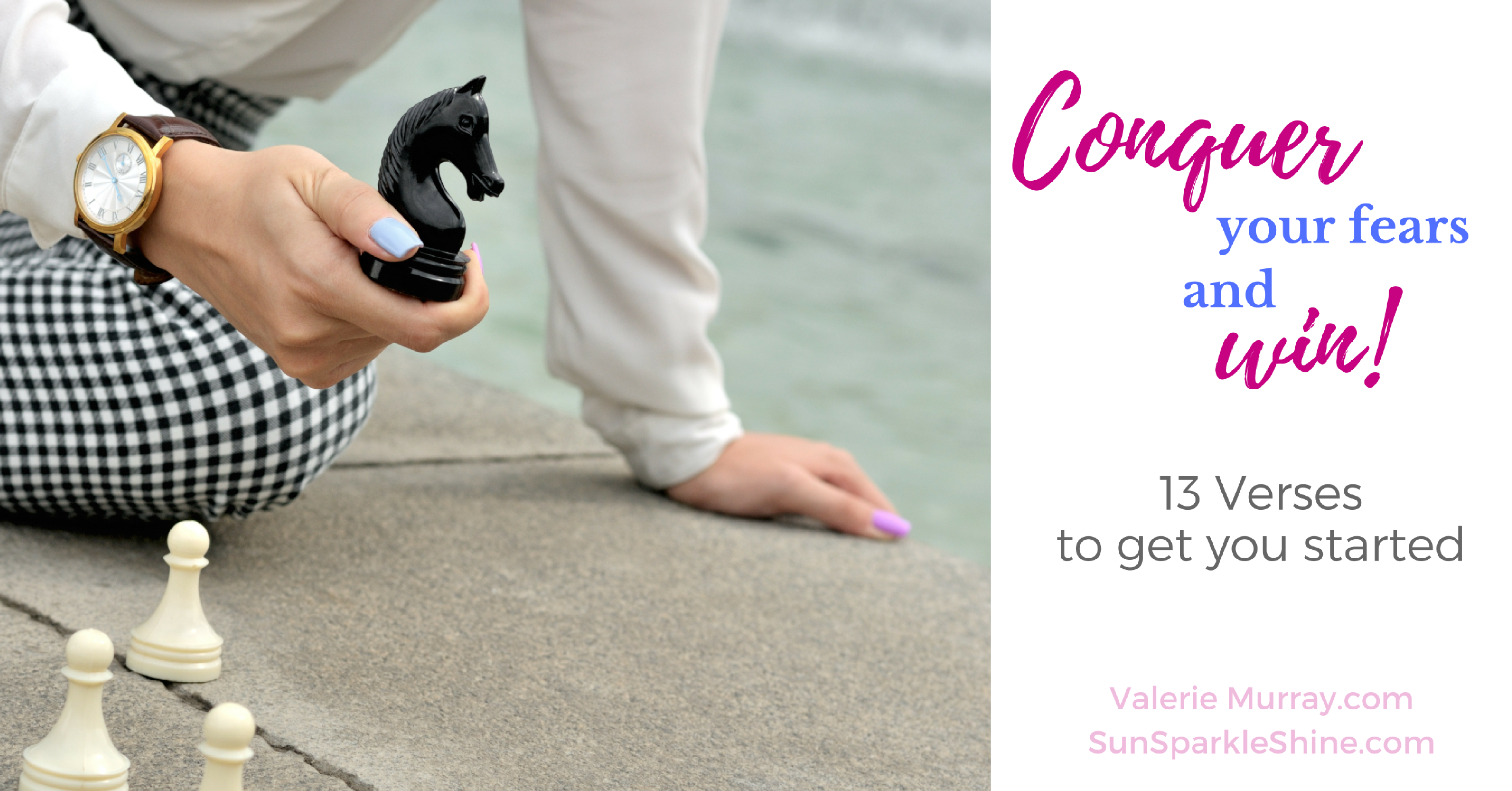 1. "Have no fear of sudden disaster or of the ruin that overtakes the wicked. For the Lord will be at your side and will keep your foot from being snared." Proverbs 3:25-26 NIV
2. "The Lord is my light and my salvation, whom shall I fear? The Lord is the stronghold of my life, of whom shall I be afraid?" Psalm 27:1 NIV
3. "So do not fear, for I am with you, do not be dismayed for I am your God. I will strengthen you and help you. I will uphold you with my righteous right hand." Isaiah 41:10 NIV
4. "God is our refuge and strength, a very present help in trouble. Therefore we will not fear, though the earth give way and the mountains fall into the heart of the sea." Psalm 46: 1-2 NIV
5. "When I am afraid, I put my trust in You!" Psalm 56:3 NIV
6. "He will cover you with His feathers and under His wings you will find refuge, his faithfulness will be your shield and rampart. You will not fear the terror of night, nor the arrow that flies by day." Psalm 91:4-5 NIV
7. "Say to those with fearful hearts, Be strong. Do not fear!" Isaiah 35:4 NIV
8. "Do not fear, for I have redeemed you; I have summoned you by name: You are mine! When you pass through the waters, I will be with you; and when you pass through the rivers, they will not sweep over you. When you walk through the fire, you will not be burned; the flames will not set you ablaze." Isaiah 43:1-2 NIV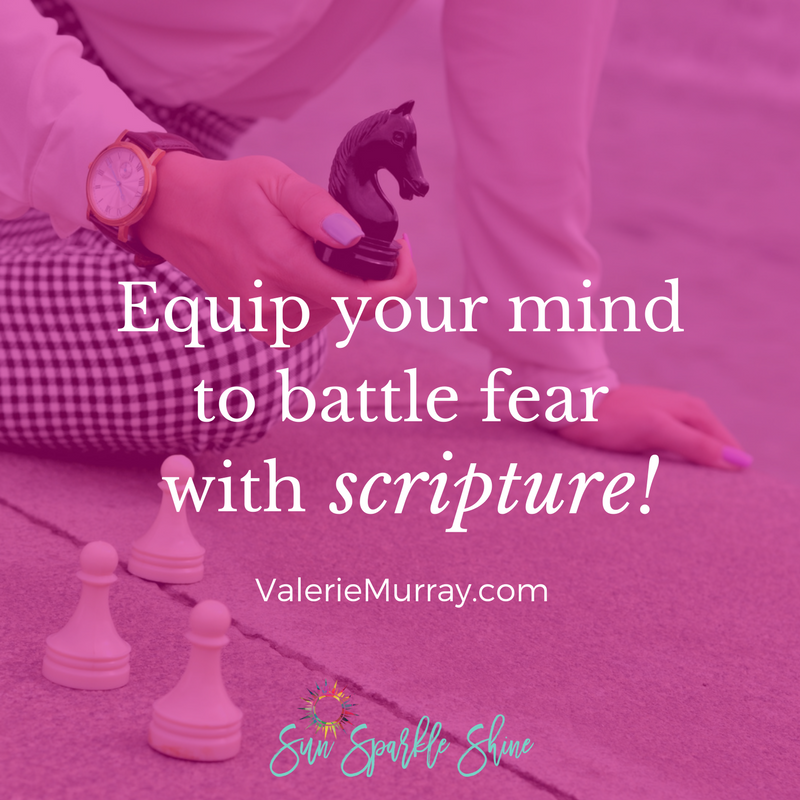 9. "Peace I leave with you; my peace I give you. I do not give to you as the world gives. Do not let your hearts be troubled and do not be afraid." John 14:27 NIV
10. "Do not be afraid. Do not be discouraged." Deuteronomy 1:21 NIV
11. "For I am the Lord your God who takes hold of your right hand and says to you, Do not fear; I will help you." Isaiah 41:13 NIV
12. "For God has not given us a spirit of fear, but of power and of love and of a sound mind." 2 Timothy 1:7 NKJV
13. "In all these things we are more than conquerors through him who loved us." Romans 8:37 NIV
How about you?
What are your tips for conquering fear?
What's your winning strategy?
---
Meet Valerie Murray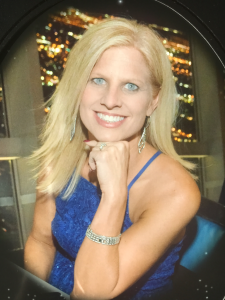 Valerie Murray is a wife of 21 years and a busy mom to 4 energetic children. She writes at ValerieMurray.com about keeping faith and family strong through Christ. Her heart's desire is to offer hope to others and declare the glory of God in her life through her writing. Her mission is to offer encouragement to struggling marriages, overwhelmed moms and people striving to face their fears and know their worth. Coffee, chocolate and a good movie always makes her happy! You can find her on Pinterest, Facebook, Twitter, StumbleUpon, Instagram & Google+.
---
Please spread the shine and share this with your friends using the share buttons below. 
And if you're looking for more encouraging and inspiring content, check out these amazing sites where I link up my weekly posts.
How about some extra summer sparkle?
I'm teaming up with my blogging besties to bring you the best of the best, all summer long. During June and July, we're sharing our top posts in the #SummerSizzleBlogHop series featured on all our blogs. It's going to be hot, hot, hot, so be sure sign up for blog updates so you don't miss any of it. As a gift, I'll send you a Personal Retreat Guide to plan your summer getaway — just you and God.