Use these P.R.A.Y. prayer and scripture cards at any time to add some sparkle to your day!
Be joyful always; pray continually; give thanks in all circumstances, for this is God's will for you in Christ Jesus.

– 1 Thessalonians 4:16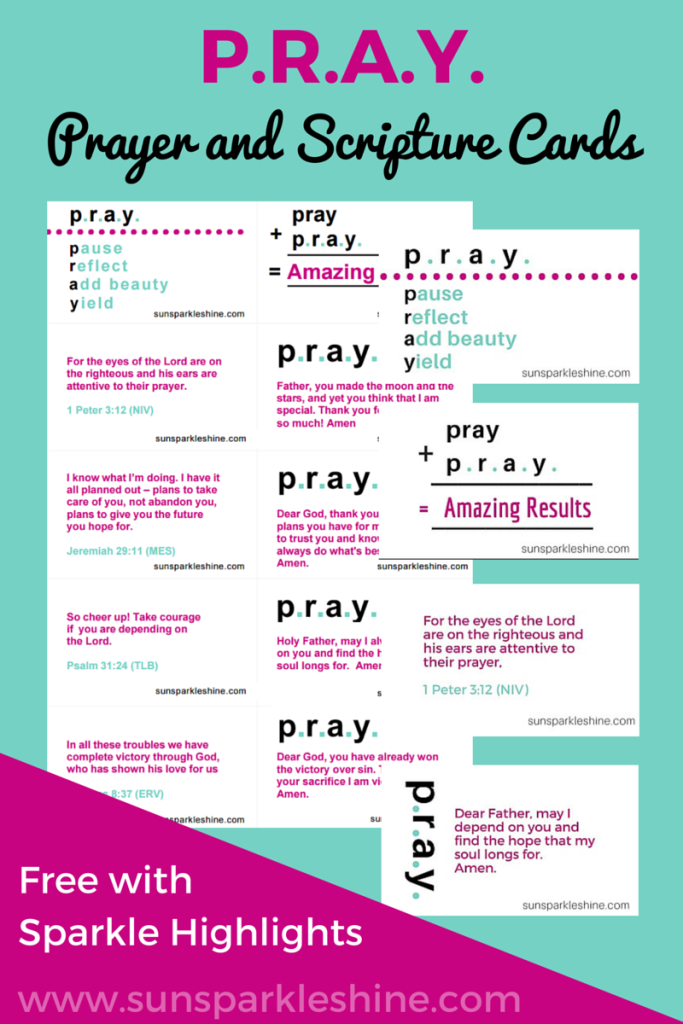 What are P.R.A.Y. cards?
P.R.A.Y. is a unique approach to lifting your spirits and reminding you to focus on God. They include encouraging scriptures and heart-felt prayers that you can use for yourself or to encourage someone else. When combined with prayer, you have a powerful strategy to find strength and hope in any situation.
P.R.A.Y. stands for:
Pause – take a moment to step back from the situation
Reflect – reflect on what God is doing
Add Beauty – surround yourself with beauty
Yield – give your situation over to God. He wants to handle it for you!
How to use your P.R.A.Y. cards
Simply print your P.R.A.Y cards on card stock or on pre-marked business card paper and cut along the marked edges.
Keep them in your purse (or your business card holder) and refer to them whenever you need encouragement.
To find out how I use my P.R.A.Y. cards and get some ideas of your own, you can read this post.
Download your P.R.A.Y. cards now
P.R.A.Y. cards are FREE for sunSPARKLEshine subscribers. Sign up below to receive yours.
You sparkle!