Ever had one of those days when you're down in the dumps and just can't shake it? Maybe it seems that everything you do isn't good enough. Your significance tank has been running on empty and all of a sudden no one seems to think you're important anymore.
Perhaps you've been looking forward to spending one on one time with your hubby but he can't seem to take his eyes off of the big game, leaving you feeling neglected.
It could be that the kids have been busy taking and you're just too tired of giving.
Or, heavens forbid, there's simply no good reason to be down – but you still are. There's no sparkle, no glow, no shine, nothing. Just blah! 
We've all had days like that. Sometimes it goes on for days on end.  It's a vicious cycle. The more we think about how low we feel, the lower we feel.  How can we possibly move on? How can we find the encouragement our souls need?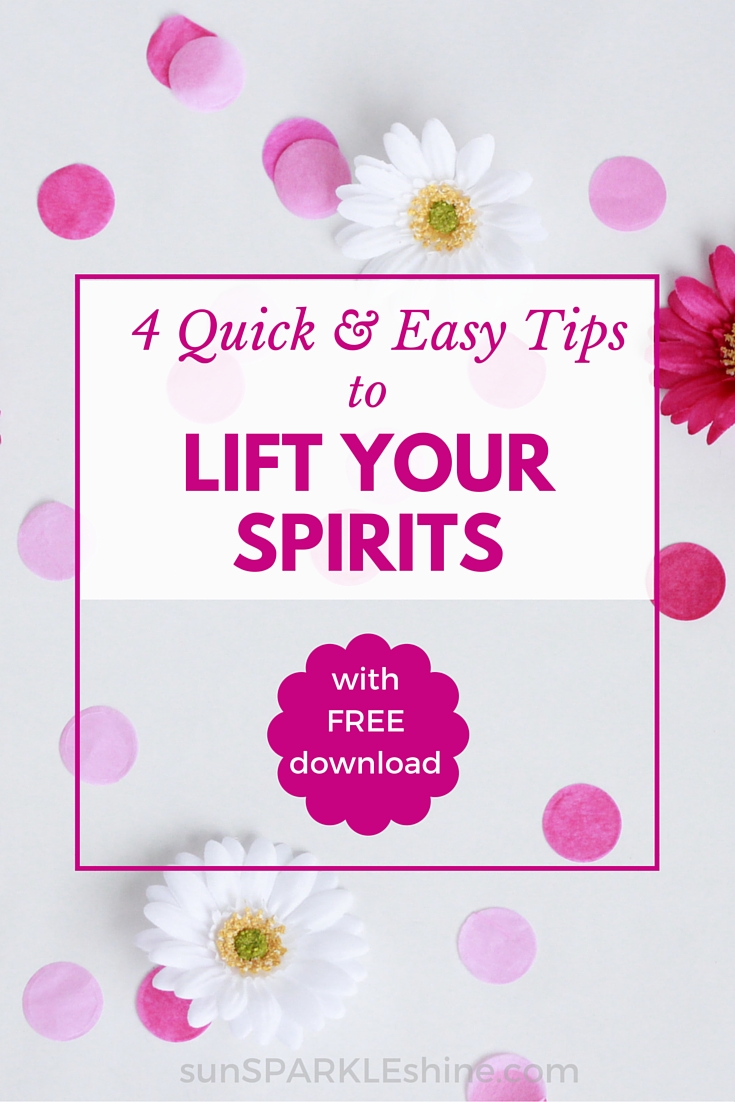 Simply put, we need to pray and PRAY.  Wait a second did I just say 'pray' twice?  You sure bet.  It's so sweet I must repeat.  Pray and PRAY! Here's how:
Pray
This advice is so obvious that sometimes we forget to do it.  But prayer works amazing wonders in our lives and certainly on our moods.  When we take the focus off of us and share it with a God who is bigger than our problems, our perspective starts to change.  1 Peter 3:12 offers such great encouragement by reminding us that God pays attention to our prayers. Plus James 5:16 tells us that our prayers can be powerful and effective.
Now, here's the even more powerful part. Are you ready for the real secret to improving your mood? Drum roll please…
P.R.A.Y.
This four-part secret ingredient when combined with prayer will put the zing back in your step.  Follow these four simple tips and see what a difference they make.  In no time at all you will be back to loving life – with a smile on your face!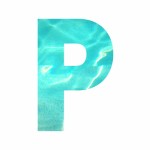 1. Pause
Taking a moment to step back from a situation is the first step to mood-lifting relief.
How to do it:
Breathe slowly and deeply. Take a time out from the situation. Step away for a moment. This might mean a break where you physically remove yourself for the moment or it could be that you emotionally switch gears.
Why it works:
The adage of counting to 10 might be old but it still has merit. When we pause and breathe deeply it soothes and relaxes us, putting us in the right frame of mind for the next step.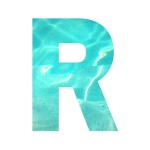 2. Reflect
Now that you've taken a time out this is a good time to reflect.
How to do it:
Reflecting might be different for each person, but in every case it should be about reflecting on something positive.  Happy memories, a good joke, an inspirational quote. This is where I like to recall scriptures. This gives me a chance to replace any negative thinking with time-tested truths. Keeping scripture cards on hand helps me to remember God's faithfulness. I find them so encouraging that I've included a set of prayer and scripture cards as a free gift for you. My personal favourite is Romans 8:37 ('I have complete victory') which is great for those moments when I feel like I'm failing. (Yes, I have those too.)
Why it works:
When we're in the middle of a low spell it's hard to stay positive.  Taking a moment to reflect helps us see things differently.  It's especially encouraging to recall biblical characters who overcame difficult situations.  As a result we typically start to see our situation in a whole new light.  And usually we find that things are not as bad as we initially thought.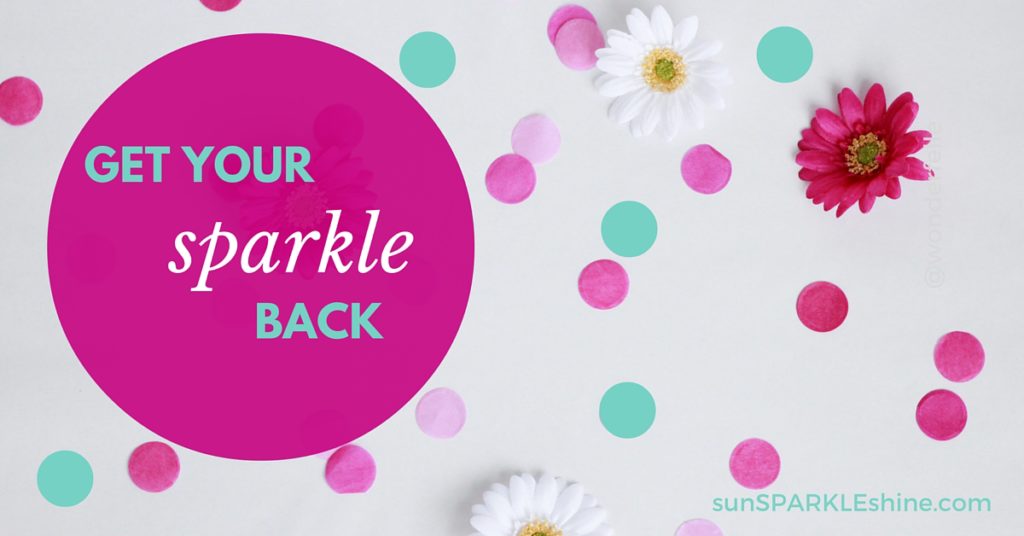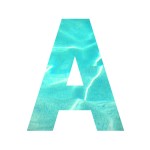 3. Add beauty
Something amazing happens when we surround ourselves with beauty.
How to do it:
Each person finds beauty in different things, so see which of these works for you:
– Listen to your favourite music
– Take a walk outdoors and get some fresh air
– Make an arrangement of some lovely, fresh flowers
– Get creative.  Recently my sister bought me a colouring book for adults.  They seem to be the latest craze for managing stress (seems she might be sending me a message).  I find that it's a great way to wind down and I also love the beautiful images that I get to create in the process!
Why it works:
We were made in the image of our creator who is all about beauty. When we create beauty or surround ourselves with beautiful things our moods get a boost.
4. Yield
We've prayed, we've paused, reflected, added beauty, we're good to go, right? Well not quite.  We now have to yield.  You know, surrender, let go, hand it over.  Yes, the things we don't always like to do.
I recall a Christian ministry leader who pointed out that it's one thing to have a bad five minutes, it's yet another thing to live there.  Sometimes as women we like to stay in the dumps as if we feel it's a badge of honour. In my earlier example I mentioned wanting to have some alone time with someone special.  In that case, if he didn't take his eyes off of the TV long enough for me to finish a sentence – guess what? That doesn't give me the right to stay in a foul mood for the rest of the night.  At some point, I have to let it go (yes I'm talking to myself here!).
How to do it:
Make a conscious decision to let it go: your bad mood, the funk, your low moment. Let it go.  Even if it means literally throwing it out the door. Grab at the air, catch that bad mood, clutch it with both hands and toss it out the door. There! Now, don't you feel better already?
Why it works:
Surrender is the act of letting go.  The act of handing over control.  When we give that control over to God, He takes the reigns and that bad mood loses its power over us.  We don't have to worry about it anymore. We're free to move on. Free to sparkle! And oh, what sweet relief that is!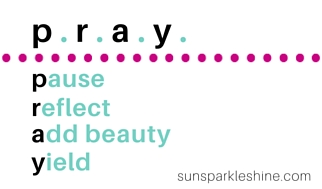 So there you have it. Try these four tips the next time you feel yourself sinking deeper and deeper into 'woe-is-me-land'.  I'd love to hear how they worked for you. And don't forget to get your FREE set of scripture and prayer cards.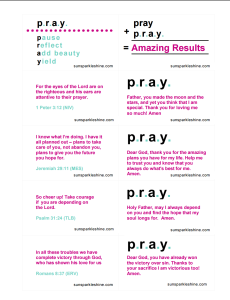 Your turn
What is your favourite scripture to help improve your mood?
What are some ways you add beauty to lift your spirits? Tell me in the comments or tweet pictures to @spreadtheshine using the hashtag #MySparkle.
Wishing you blessings, 


If you enjoyed this post, please spread the shine and share it with a friend using one of the share buttons below. 
You might find this post linked with these amazing sites.
Photo credit: Feminine Stock