Is it just me or does it seem like as soon as summer starts it's almost over? Before you blink it will be time to go back to school.
I recall several first days of school where I wished I was better prepared. This time around, I'm trying to stay ahead of the game so I'm scouring the web for back to school resources for moms like me.
This is not your typical back-to-school resource list. This round up will help us prepare our hearts and minds and get us ready to conquer the first day of school … and beyond.
Whether your kids are home-schooled or attend school outside of home, I'm pretty sure you'd be happy to get back in the game ready to win.
Are you ready?
Let's go!
Back to School Survival Tips for Moms
– Blog post by Jennifer Bly, The Deliberate Mom
Jennifer is one of the most organised and productive people I know. Here she gives us a minute by minute account of how she starts her day. It helps me to see what others are doing and gives me a starting point that I can tweak for myself. There's a free printable included for download.
This printable package includes:
a daily planning sheet
a weekly block planning sheet
To get the free printables all you have to do is subscribe to The Deliberate Mom's newsletter by following the link provided.
– Blog post by Abi Craig of Joy in My Kitchen
Whether homeschooling or otherwise, our attitude sets the tone for the school year. In this post, Abi reminds us to set our hearts and minds right before heading back to school. I don't know about you but I sure can use this kind of encouragement!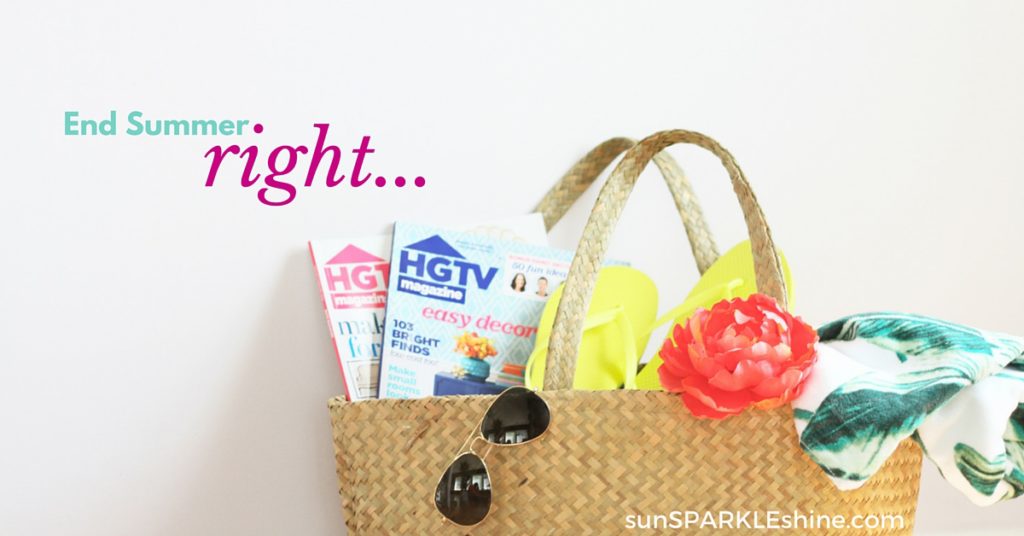 – By Sarah Ann at Faith along the Way
This post is packed full of tips and resources to get you ready for the school year. Free downloadable resources include:
30 Days of Prayer for the New School Year
Lunch Box Love Notes
Sweet Treat Bag Toppers
Back-to-School Conversation Cards
20 Strategies for a Successful School Year and more!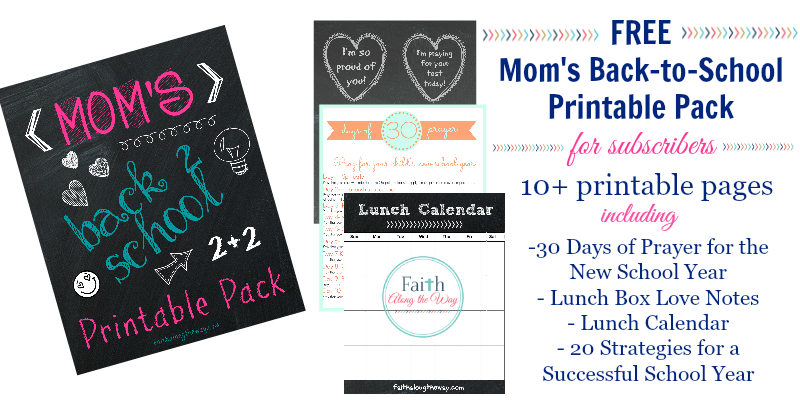 – Blog post by Anastasia Safee of Anawins blog
In this post, Ana shares a set of practical Bible verses that homeschooling or any mom can hide in their hearts. After reading the post you can download all of the scriptures in a handy printable.
Note: This post includes affiliate links but know that I only share resources that I love and trust.
 
– Book by Ruthie Gray of Rear, Release, Regroup
We all know how stressful the first day of school can be.  Sometimes the stress just keeps a steady pace throughout the school year. It's very easy to let tempers flare. In this just-released book, Ruthie shares valuable tips gleaned from years on the frontline with her four kids. Don't get into the battle without this in your arsenal.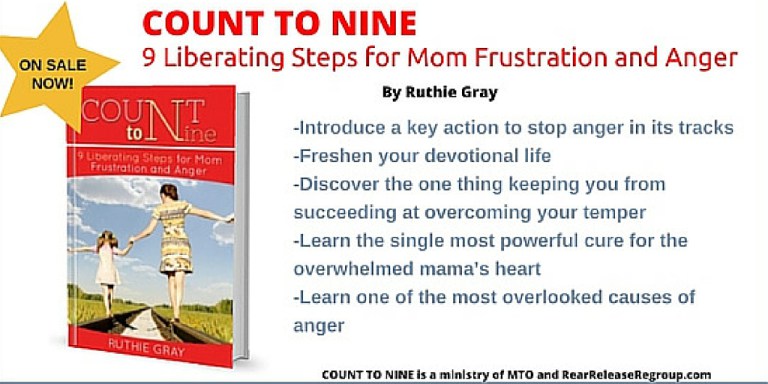 – Facebook group hosted and managed by Stefani Stoltzfus of  Walls of Home
Speaking of battles, this Facebook group is for moms who are passionately fighting for their children with the weapons God has given us. If your goal is to cover your kids in prayer every single day, you will feel right at home. To join just click on the link above and request to join the group. 
– E-course by Crystal Paine of Money Saving Mom
This 14-day e-course helps you set yourself up for successful mornings beginning with the night before. Which mom with school-aged kids doesn't need that?

This course will help you:
Establish a Realistic Evening Routine that works
Design a Prioritized To Do List for each day
Create a Best Stuff List
Eliminate calendar conflicts once and for all
Nourish your body, nurture your soul, and no longer put your health on the back burner
Assemble a wardrobe of simple outfits you love and that make you feel great
Develop a contagious, positive attitude
Stop sleepwalking through life
– Prayer resource by Arabah Joy of Arabah Joy blog
I'm excited about this new prayer challenge by Arabah Joy. Every Praying the Promises prayer challenge prompts you with one promise from God's word each day. Typically the challenge lasts about a month and it's encouraging to build community with others who've joined. This time around I plan to use this focused time to pray over my kids as they prepare to head back to school.
[amazon_link asins='B006KH7TYC,0736969047,1520404557,B019QBOG3U,0310443369,B01MZELSF2′ template='ProductCarousel' store='su0a8-20′ marketplace='US' link_id='7bfef57c-86ad-11e7-81e1-3715ef35526f']
– Blog post by Carlie at From Dust Towards the Heavens
Least we get too caught up in the doing and forget to enjoy summer, Carlie calls us to slow down. And her call is not just to slow down and do nothing on the couch. Although, I'll be the first to admit that there should always be time for that. But no, she reminds us to pause and actually bask in the glow of God's presence.
Too often I'm quick to move on to the next thing. To constantly be in planning mode. But there is a time for everything and rest and rejuvenation in the Lord must also be on our list.

– Book by Melanie Redd of Ministry of Hope
While getting ready for back to school is the challenge of the moment, we have to keep things in perspective. The truth is, there is a bigger goal in mind. As I raise my children my goal is to prepare them for a life with Christ. We're in this for the long haul and that's why this final resource is so dear to me.  This book reminds me of what's really at stake. It is my hope to win my children's hearts not just for the upcoming school year but for life.
What about you?
How are you preparing for back to school? Do you have any tips you'd love to share? Tell us about them in the comments!
Wishing you blessings, 

Please spread the shine and share this with your friends using the share buttons below. 
Love it? Pin it!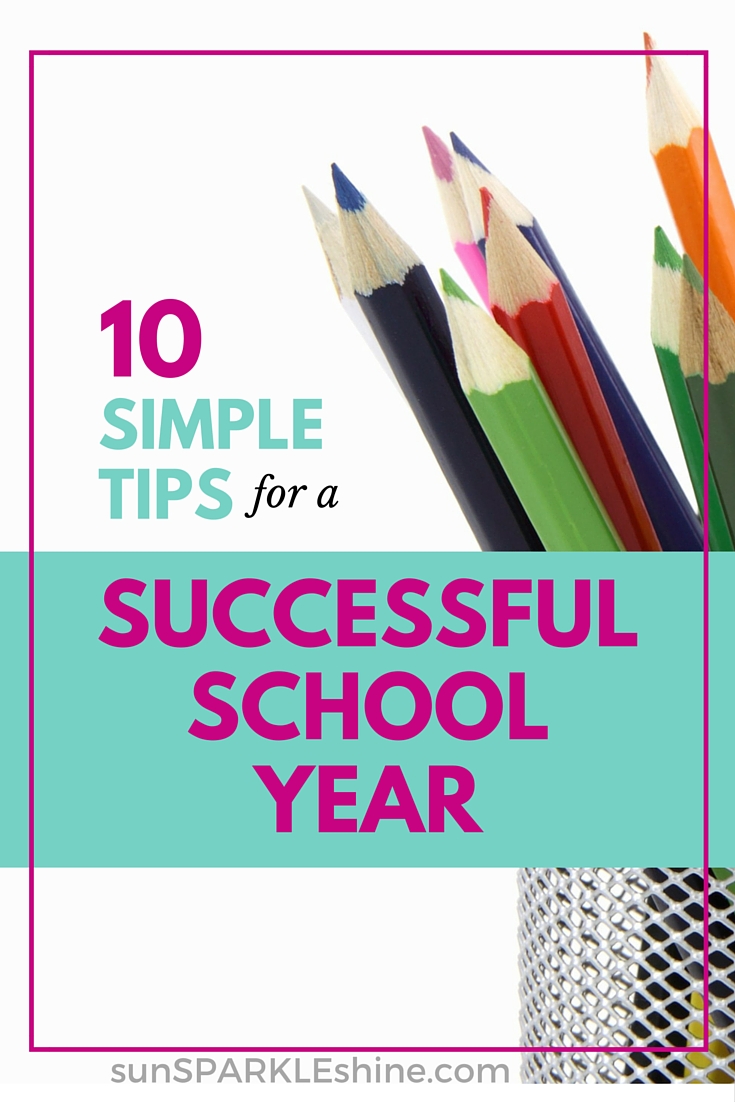 I love linking up with these amazing sites.
* Photos in this post are courtesy of the respective blogs, Pixabay, Pexels and Ashley Ella Design
---