He hid behind the tree and waited for just the right moment. Peeking around the side, he caught a glimpse of her getting out of the car and reaching for the groceries from the back seat. The night was still and the cool fall breeze chilled the air.  She pulled her sweater a little closer, as she clutched her house keys, being careful not to trip over the bike in the driveway. 'Now', he thought!

The shrill cry that followed splintered the night. Groceries flew everywhere! He rushed to help her pick them up, realizing, only too late, how much trouble he was in. 'Mom, mom, it's just me!'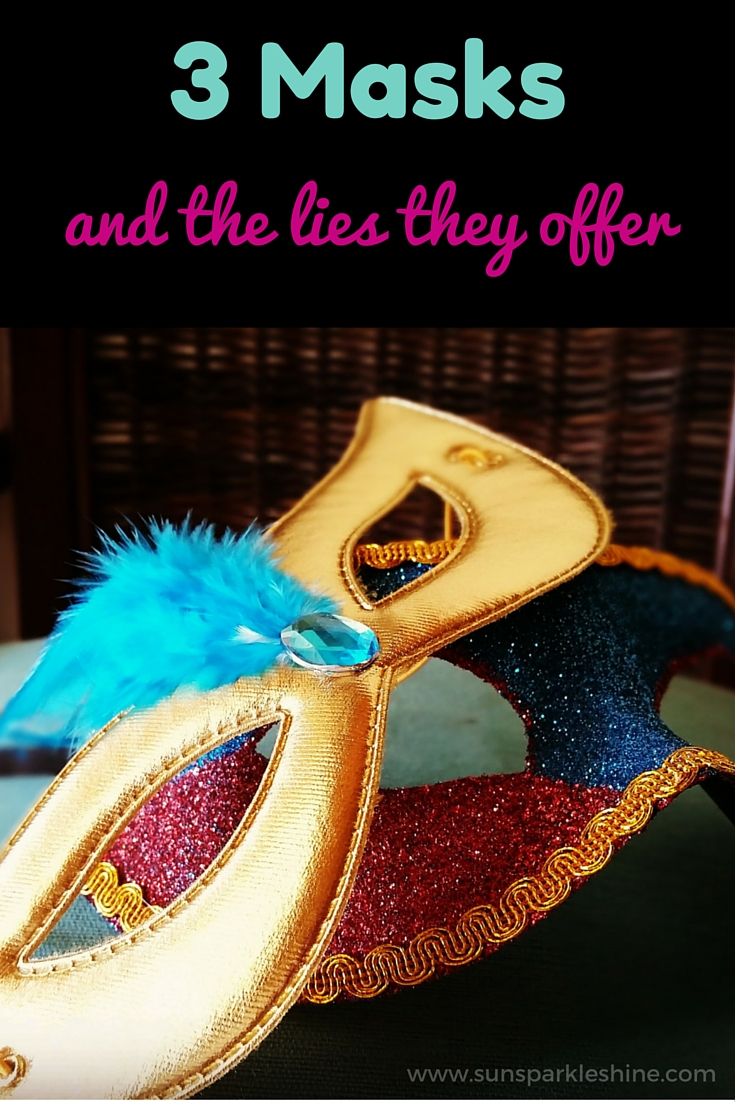 It's not surprising that on Halloween, it's almost impossible to recognize your own child. Add the element of surprise to a Halloween mask and you're sure to call 911!
Putting on a mask for a couple of hours on Halloween, might seem like harmless fun. I won't even touch on whether or not Christians should celebrate Halloween, because that's a post for a different day. For now, we'll just focus on the point that wearing a mask for Halloween is quite, well…typical. During Halloween you can be whomever you want to be if you find the right mask. No rules, just use your imagination and you're a whole new person, unrecognizable even to your closest loved ones.
How strange would it seem if you saw someone wearing a Halloween mask in the middle of May? Or if someone wore a mask every day, all day, everywhere they went? We might laugh at the thought, but it's really not that far-fetched. You see, Halloween and masquerade balls are not the only times we wear masks. In fact, some of us wear masks year-round.
We have no shortage of masks, but let's take a look at three of the most common masks and how we can peel them off.
1. The mask of self-confidence
This is a very popular and well-sought after mask. It is so popular that if you were to try to purchase this one for Halloween it would probably be out of stock. It's in high demand. Wearing this mask makes us feel powerful, confident and in control. And that's just what we want, right?
2. The mask of self-reliance
This is another highly desirable mask. When you wear this one, you don't need anyone else. You are self-sufficient and independent. When difficulties come, you don't have to turn to anyone else. You can figure things out on your own. Or can you?
I recently read an article entitled, 6 Ways You Can Build Skills Without Asking Anyone for Help. It was written to employees encouraging them to take ownership of their personal development in order to advance their careers. Still, I couldn't help but think how an article with a title like that must have attracted many readers. At last check it was shared 2,150 times from the Newsweek site alone! Our culture glorifies independence and we seem to think its a necessity in today's world.
3. The mask of self-deception
This mask is probably one of the hardest to take off.  In fact we may not even know that we're wearing it at all. When wearing this mask we become so blind that we don't even see ourselves clearly and sometimes we even forget who we were before the mask.
When I think of the mask of self-deception, it reminds me of the character Haman in the book of Esther.  Haman had lofty goals. He wanted to be king. He was so busy trying to swindle his way to the top that he didn't see his downfall happening right before him. As a result, the trap Haman set for his enemy was used for him instead. Ouch. What a fall!
So what's the problem?
You might be thinking, 'except for that last one, these masks don't sound so bad after all'. Well here's the problem: the thing about masks is that they offer a terrible lie. Masks trick us into believing that no one sees the real person beneath the mask, but this is just not true. More often than not, we are only fooling ourselves.
The reality is that we typically wear masks out of fear. Even when we start to get uncomfortable with our mask, we're too afraid to take it off. We think, 'if I let them see the real me, they won't love me.' Or, 'they won't like what they see and I can't face that rejection.' Lies, lies, lies.
The Father of Lies has tricked you into believing that no one will truly love you if you take off your mask. This is so far from the truth. The more you believe this lie, the further you alienate yourself from others, the happier Satan is. He wants you to feel all alone and stop you from finding your true identity in Christ.
These three masks also trick me into believing that:
I don't need God
I don't need others
Others don't need me 
Some Mask-Lifting Truths
How can I beat these lies and embrace the real me? How can I finally stop hiding behind a mask? I think about Jesus in Luke 4:1-13. When He was tempted, Jesus combated Satan's lies with the word of God. He found the strength to stand amidst very real temptations by relying on God's word. That's exactly what we must do in order to take off our masks and reject the lies Satan sold us.
To help us keep the masks off, here are some scriptures we can trust:
Jeremiah 1:5. The good news is that we have a Saviour who not only made us exactly the way we are, but He also loves us just the way we are. Knowing that He has a purpose that only I can fulfill makes me feel special and no longer like I need to be someone else.
It's wonderful to know that God loves me unconditionally! With all of my flaws, all of my weaknesses, all of my shortcomings. He simply loves me! And because He does, I can be free to be the wonderful me He created. No more masks required!
2 Corinthians 3: 16-18. When we turn to God, we are free to be ourselves. By taking the mask off we are able to truly reflect God's glory. Plus, He helps by transforming us daily, so we feel less and less tempted to put the mask back on.
Romans 8:37-39. Nothing that we do can separate us from God's love. No matter how we might try to run away, He is still there loving us. It's so amazing knowing that He gives us the power to overcome anything, including our insecurities.
Matthew 11: 28. Let's face it, wearing a mask is burdensome. Pretending to be someone or something that we're not, is quite tiring. We can find rest for our souls when we lay our masks before Christ. This freedom allows us to be ourselves around others and build deep and meaningful relationship where we can thrive.
So, what are you waiting for? Won't you join me and take off your mask? I'm ready to let the real me shine through! What about you?
Your turn
What holds you back from being your true self? How can we help each other feel free to be ourselves? What scriptures encourage you to be the real you before God and others?