Where do you turn when you need someone to talk to?
Today, it's my sister Carlie's turn to host the Sparkle Circle and she's digging deep into this question.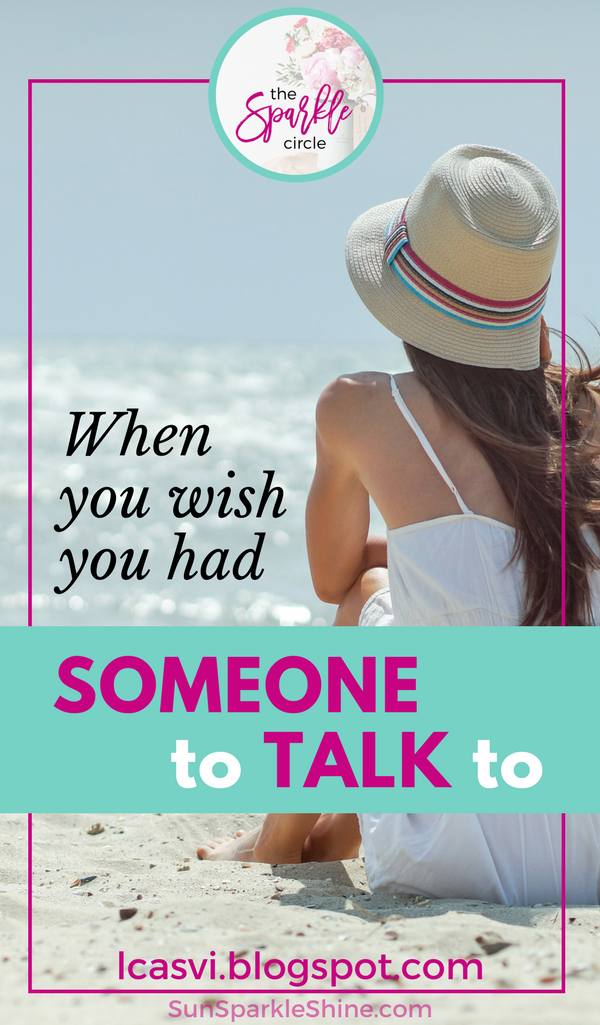 There are times when you really need someone to talk to. Someone safe. Someone who wouldn't judge you. Someone who is really great at listening. It doesn't matter if you can see the person or if they are very far away.
You just need someone.
Recently, one of my son's friends whom he met through X-box Live had a mini-crisis. He was home alone, scared and anxious as he awaited his parents' return.
So in true brotherhood and a moving show of loyalty, two of his online friends (my son included) arranged a Skype call and waited up with him until his parents came home. Together they bore him up in his time of need. They listened to him, and helped calmed his nerves with jokes and laughter.
I kept my door open, asked to be continually updated on the status of the situation, and then I prayed. I went straight to my Father in heaven and interceded on behalf of this young man and his family. I reminded my son to pray for his friend.
"It's gonna be a long night", he said in a somewhat 'proud-to-be-able-to-help' manner. I sighed, but the time did not matter, my son's friend needed support, and even though we were thousands of miles away, together we would keep watch.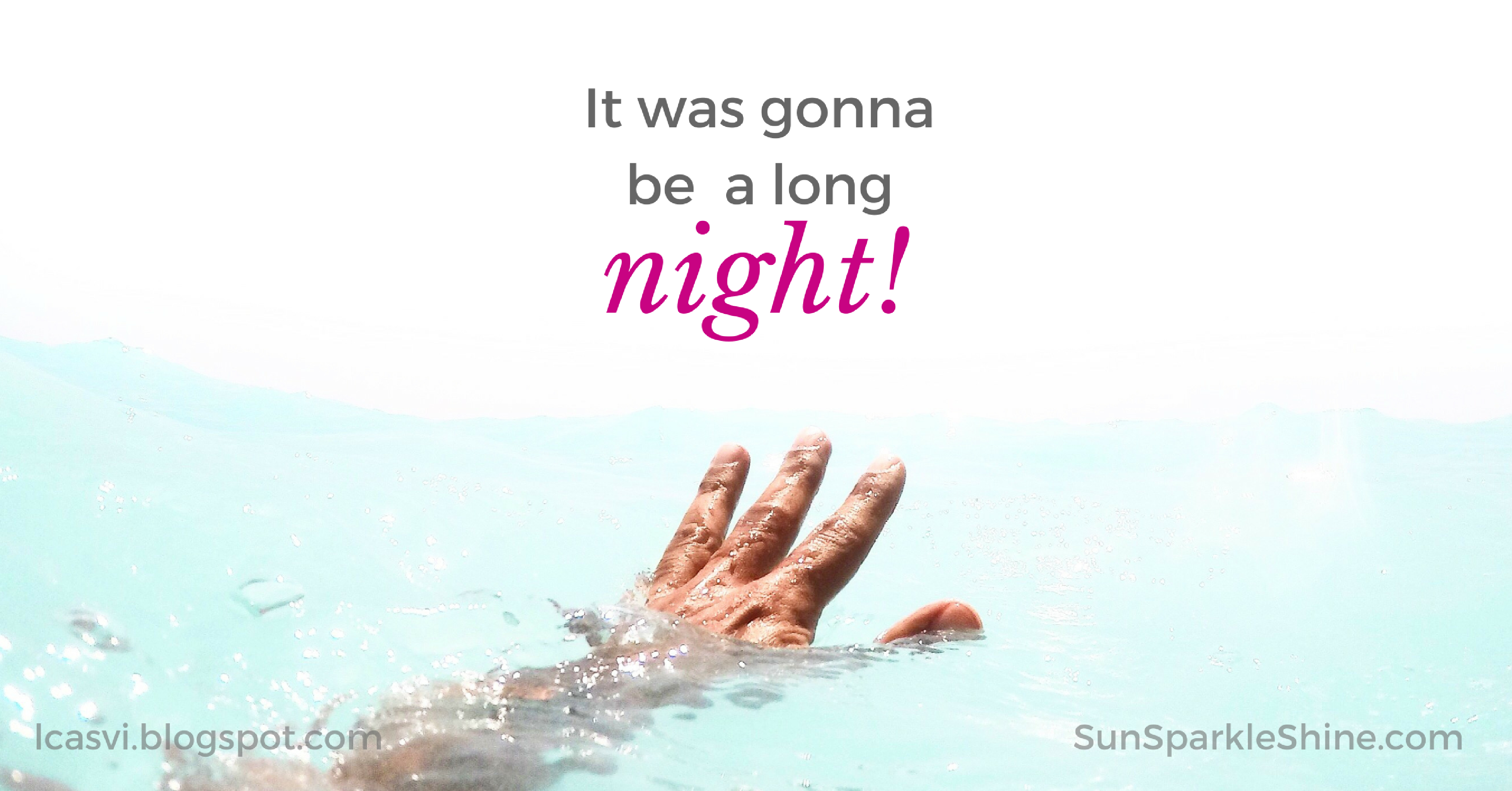 Thankfully, it was just around midnight that we got the all clear.  Despite an accident that had delayed them for hours, the parents were now home safe and sound. Amen.
Someone to talk to … a friend to sit with you, talk with you, listen to you, to help you pass the time when you're going through a difficult time.
Or how about when you have a secret… you want to tell someone but you're afraid. Afraid you'll be judged, misunderstood. So you keep it in until you find someone safe. Could be someone you don't even know well, just an acquaintance… but somehow that person seems safer than your closest friends. Things wouldn't have to get awkward … uncomfortable.
My daughter experienced something similar. Wise beyond her years, she is often great at listening and giving advice, nonetheless she was surprised when out of the blue a friend shared a secret with her. It was as if her friend just had to talk, she tells me, had to find someone to share her secret with.
I smiled. Sometimes you just have to tell someone.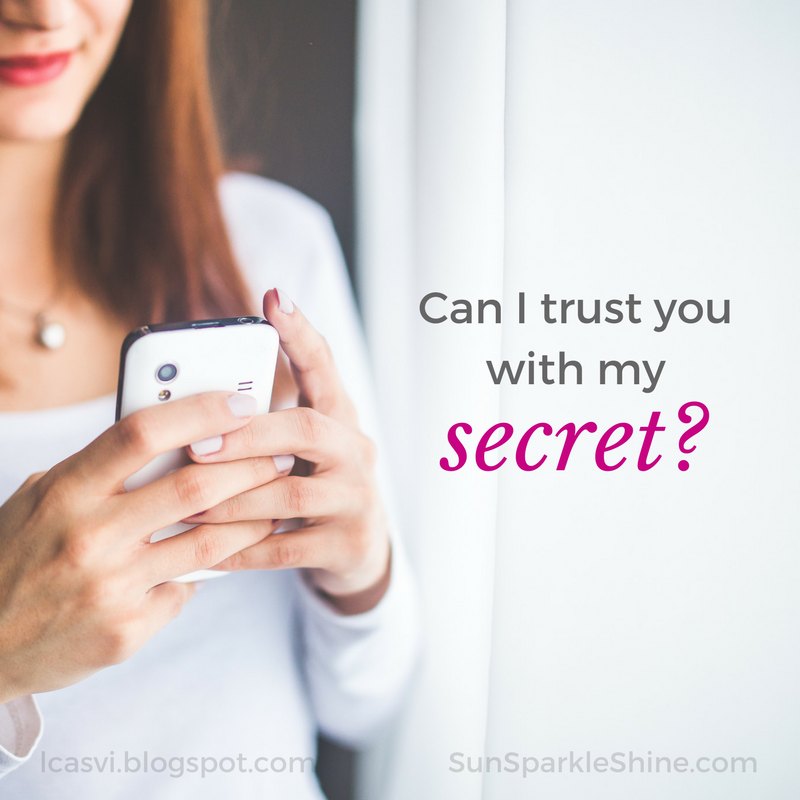 I think we are wired that way… with an innate desire to connect with others. To voice how we feel and know that someone listens… and cares.
But no matter whom we find on this earth, there's no one quite like our heavenly Father when we really need to bare our souls.

Have you ever heard of a brain dump?
'A brain dump is a strategy to return to again and again, whenever you feel confused, scattered, or overwhelmed. It gets your swirling thoughts down onto paper so you can think about them and examine them and make decisions about them rather than just hold them.' – Mystie Winkler
'Confused, scattered, overwhelmed' – yep, that pretty much sums up how I've been feeling recently, so I was ripe for a brain dump.
But as I started going through the process of getting things out of my head, which for an over-thinker like me can be quite a process, I felt compelled to move beyond the brain dump. What I really needed was 'Someone' to talk to.
Trust in him at all times, O people;
    pour out your heart before him; – Psalm 62:8 ESV
Introducing 'The Prayer Dump'
So I started writing it all out to God. Telling him all the areas I was thinking of. All I was thankful for, what I was scared about, worried about, etc., etc.
But something was missing.
I was still holding back.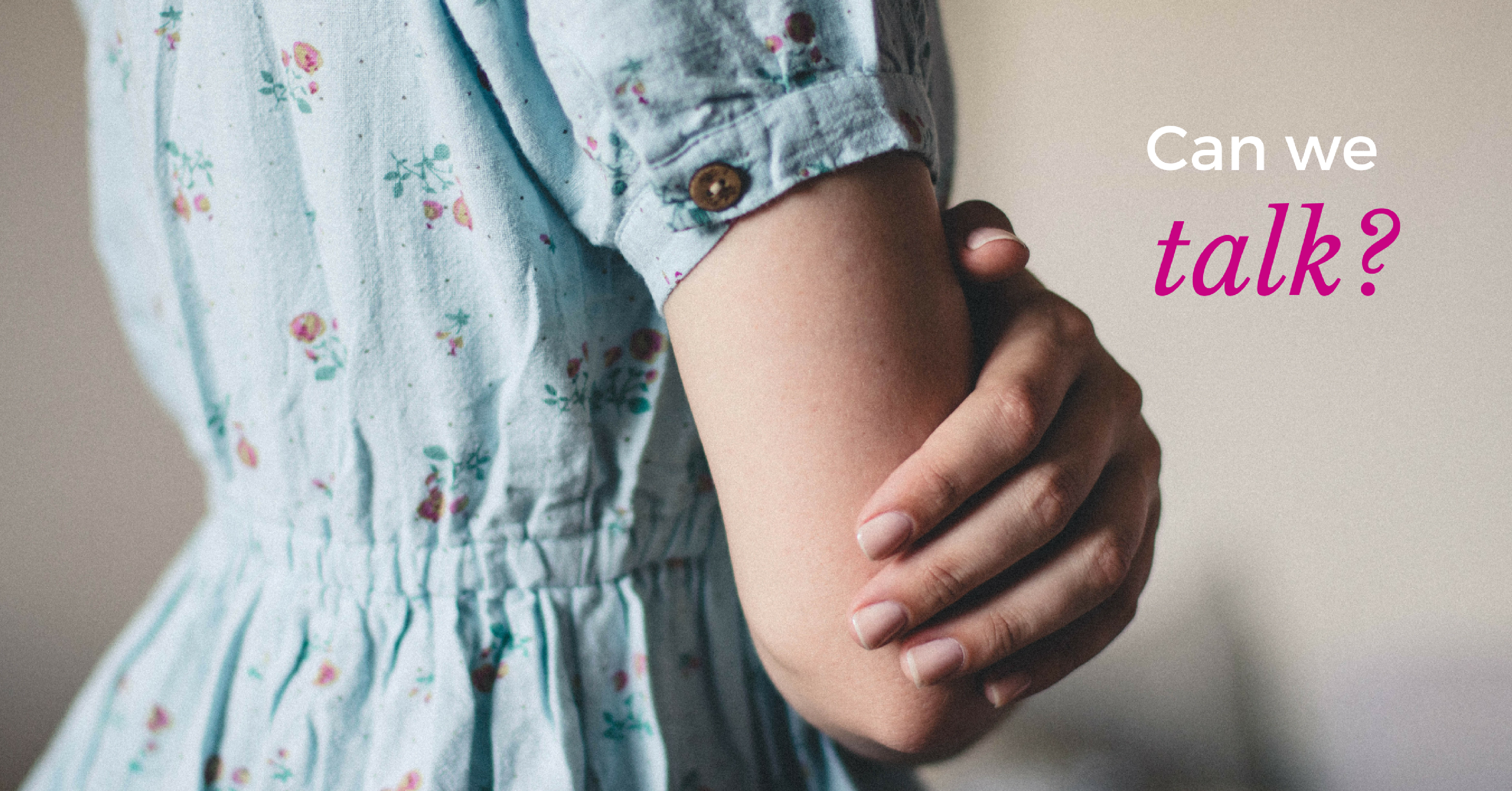 Sometimes, you see, I might try to follow a prayer formula… a simple reminder of what not to forget as I'm meeting with the Commander of Heaven's armies, but God… my God, he would much rather have my heart.
All of it.
The sacrifices of God are a broken spirit; a broken and contrite heart, O God, you will not despise. Psalm 51:17 ESV
I thought about the lives of David and Saul.  I thought about Saul's attempts to justify his sins… to explain away his actions to God. And then I thought about David – far from perfect, plagued by his sins and their resulting consequences, yet quick to throw himself at the mercy of God, exposing all his weaknesses and continually seeking the Lord in wholehearted repentance.
Pride versus humility.
There's no hiding from God… no pretending. You can't try to cover up or colour pretty your true motives from Him. You might as well just come clean… naked.
There's something scary yet surprisingly comforting about that fact.
Yet, imagine, someone you can bare your whole soul in front… lay out all your weaknesses, your bad thoughts and habits, your questions and doubts, your selfish ambitions… someone who is not even slightly surprised by all of it, who knows exactly from whence you came, and who loves you even so… someone whose compassion for you knows no bounds.
Yes, my friend, I needed to throw it all. A true prayer dump is not complete without heartfelt confession… acknowledging my sin as it is… ugly and disfiguring and peace shattering; admitting my inability to help myself and agreeing that God is God, and that I am fully dependent on Him.
I threw it all on. My doubts and my praises… my grumblings and my thanks because he knows me… he gets me.
And that feeling that we crave… that feeling that someone listens… that someone cares… that someone understands… well…
There just is no substitute to laying it all out before my Father… the one who knows all, sees all and loves… even so.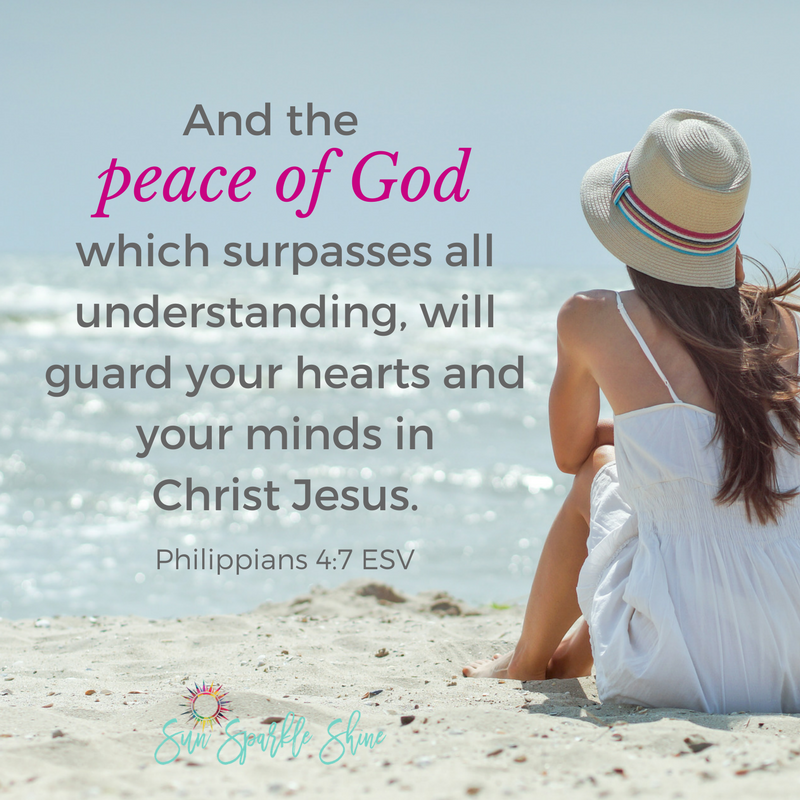 And the peace of God, which surpasses all understanding, will guard your hearts and your minds in Christ Jesus. Philippains 4:7  ESV 
There is no one like the God of Israel.
    He rides across the heavens to help you,
    across the skies in majestic splendor.
The eternal God is your refuge,
    and his everlasting arms are under you. 
Exchanging peace for overwhelm. Amen.
So, my friend, if you need someone to talk to… I mean really need someone to talk to… take my advice and try a prayer dump. God is listening.
Wishing you blessings,
Carlie
P.S. This post is part of the #SparkleCircle series hosted by my sisters, Carlie, Andi and me. Through these monthly posts, we hope to inspire friendship and community among women whose aim is to shine for Christ. Because doing life together makes it so much brighter!
Plus, great news! In addition to leaving a comment below you can also join the conversation in our new Sparkle Circle friendship forum, here! Create your login today to receive a free gift.

Catch all the other #SparkleCircle posts here!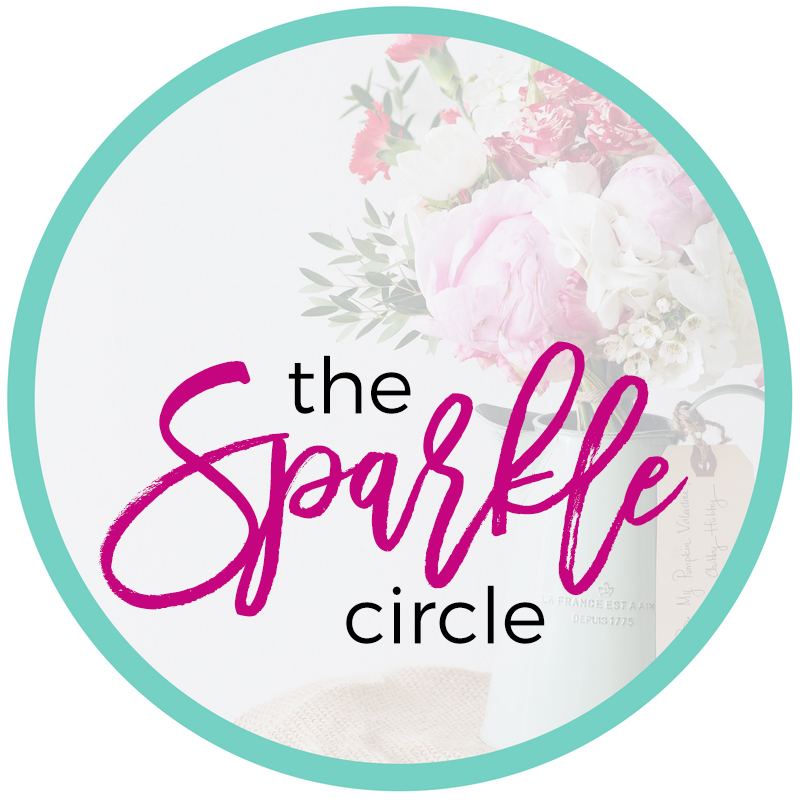 Please spread the shine and share this with your friends using the share buttons below. 
And if you're looking for more encouraging and inspiring content, check out these amazing sites where I link up my weekly posts.
---
Meet Carlie
Carlie is the author of the blog From Dust Towards the Heavens, where her simple desire is to spread the aroma of Christ in this prickly world. You can connect more with Carlie on her blog here as well as on Facebook and Twitter @carlielakevi. 
---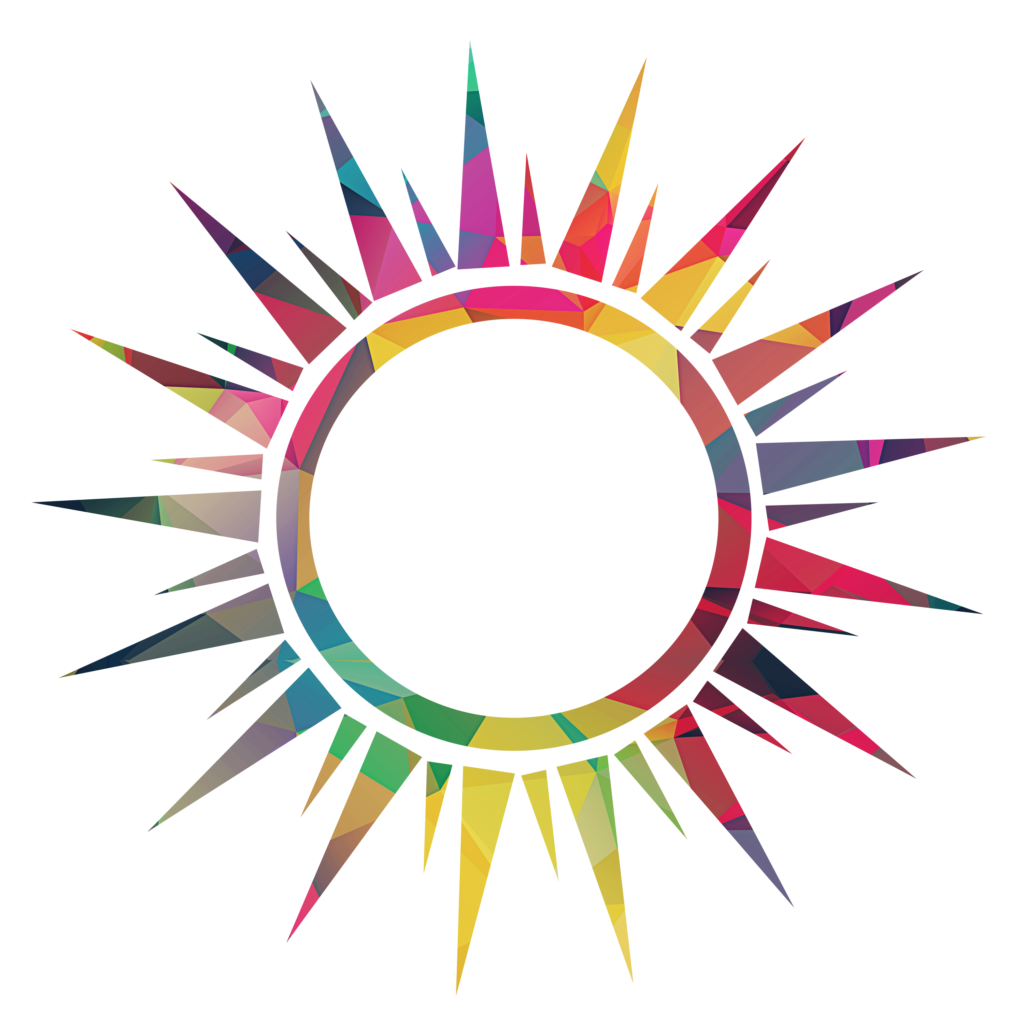 Did someone say summer and friends?
I'm teaming up with my blogging besties to bring you the best of the best, all summer long. During June and July, we're sharing our top posts in the Summer Sizzle series featured on all our blogs. It's going to be hot, hot, hot, so be sure sign up for blog updates so you don't miss any of it. As a gift, I'll send you a Personal Retreat Guide to plan your summer getaway — just you and God.