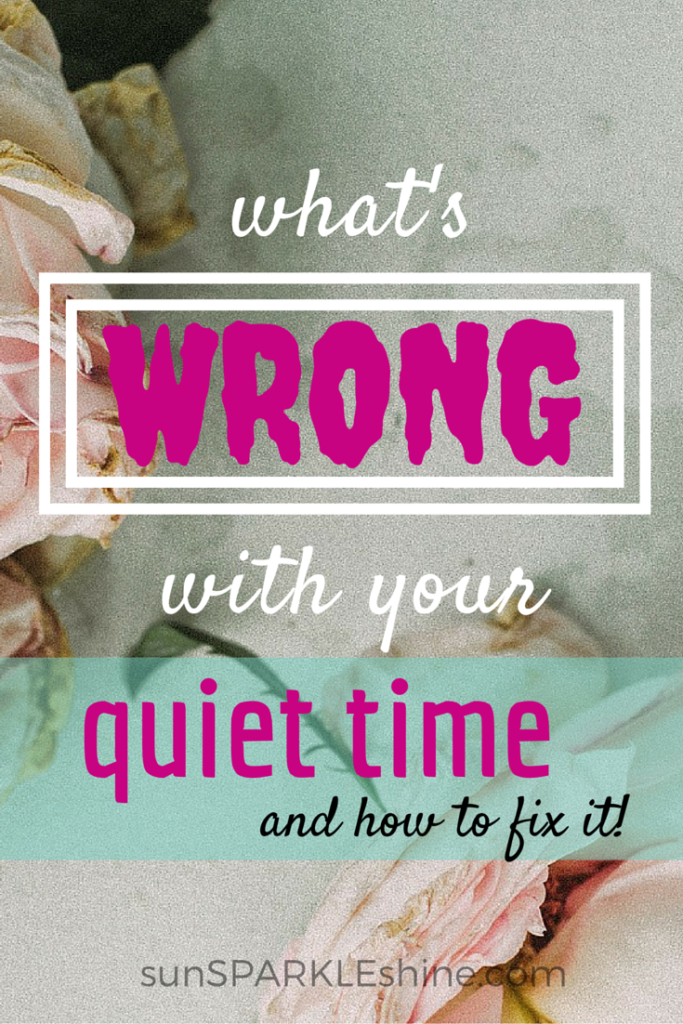 Have you ever had a friend rave about their mountaintop experience with the Lord only to be left feeling like there's something wrong with you? The new Christian at church is discovering amazing truths in God's Word every day and you can't seem to make it past Leviticus. Maybe you're diligently showing up for your quiet time with God but He's the one who's silent.
You might be right. Maybe you have this quiet time thing all wrong.
Perhaps you've been trying to follow a cookie-cutter approach to devotional time and it's simply not working for you. If you've been following someone else's prescription for what your time with God should look like, think again.
Here's a little secret: you are unique.
How you made me is amazing and wonderful.
I praise you for that.
What you have done is wonderful.
I know that very well.
Isn't that what we tell children, that they're unique? I remind my kids all the time about how uniquely they've been made. They're not the same as their friends. They learn differently, think differently. As a matter of fact, even though the two of them are 'flesh and blood' (siblings), they're different from each other too. My son is very hands-on (kinesthetic) and thrives on any activity where he gets to make something. And while my daughter loves to read (visual), I've noticed that she remembers things best by listening (auditory).
The way you learn is unique. The way you connect with God is unique. Your devotional time with God should be unique too!
Let's take some cues from our unique learning styles to add a spark to our quiet time. Here are a few tips to try based on your individual learning style.
By the way, if you're not sure what your learning style is, you can visit this link and take a short quiz. You will probably score in all 3 areas but the one with the highest percentage is your dominant style.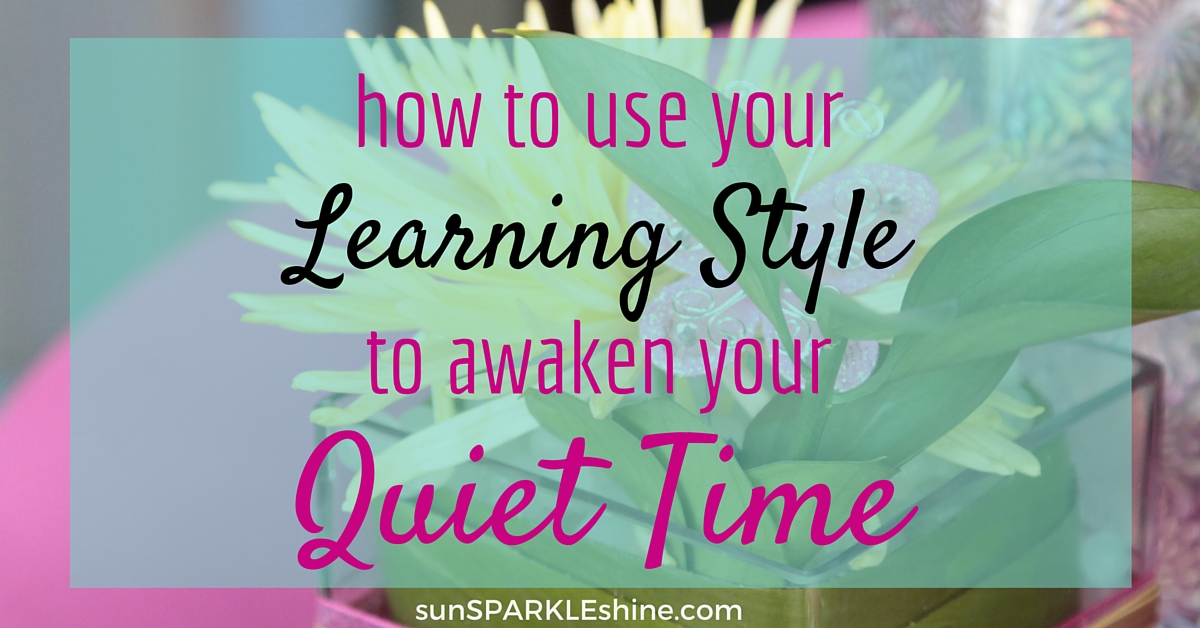 For the Visual learner:
Studies show that the majority of us are visual learners. We are most engaged when we read or watch something. Your devotional time should have a good amount of reading. Having said that, you can consider adding some fresh new ways to get time in God's Word.
Consider these resources:
First 5 App – this daily devotional from Proverbs 31 Ministries is sent directly to your mobile device. It includes scripture verses, beautiful images, and devotional thoughts, followed by a prayer. I love that the devotional takes you through a book of the Bible at a time, so it's not at all haphazard. You can use the free app by itself or dig a little deeper by using their Experience Guides which you can order from the Proverbs 31 store. The Experience Guides typically cost between $8 and $13.
Praying the Promises of the Cross (affiliate link) – this resource by Arabah Joy and Amanda Criss takes you through individual bible readings for 40 days. Each Bible verse is a Christ-centered promise from God! It involves kinesthetic learning too, as it also engages you in re-phrasing the scripture in your own words, writing your own prayer and praying it back to God. You can hear from Arabah Joy about how this prayer journal transforms her day by reading this article. The 40 daily mini-devotionals and prayer journal sheets cost just $12 and you can purchase directly by clicking on the image below.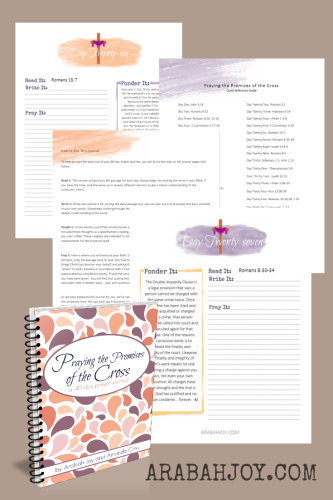 P.R.A.Y. Prayer and Scripture cards – these business-card-sized printables are a fun way to take God's word with you throughout the day. You get a free download with 5 scriptures and the corresponding prayers. In addition to the visual cue, you can also appeal to your auditory side by reading the scriptures out loud and committing them to memory.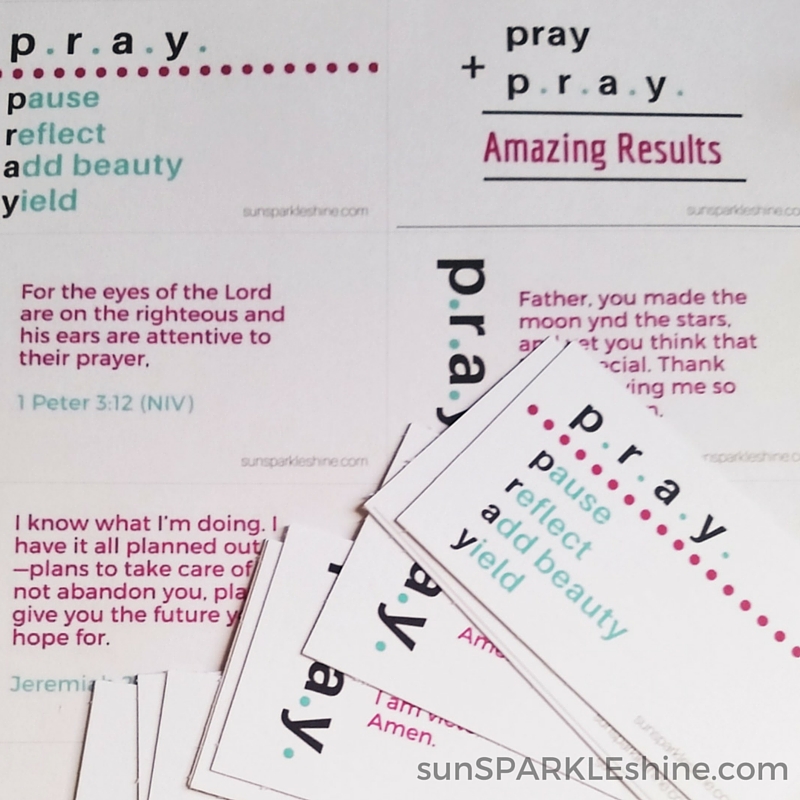 For the Auditory Learner:
If the spoken word appeals more to you, you will do well to include lots of resources that allow you to hear God's word.
Consider these resources:
YouVersion Bible app – this  popular free Bible app has many features including the ability to download various audio versions of the Bible. My husband loves this so much that he starts his quiet time listening to the Bible and keeps it playing while he's getting ready for work. It's a handy on-the-go resource as well.
Online sermons – many churches upload their weekly sermons to YouTube and other video apps so you can easily access them at any time. The fact that they're usually free is a good reason you should take advantage of the opportunity. On YouTube you can use the search feature to find a sermon by pastor, church name, or topic.
For the Kinesthetic Learner:
I am amazed by all the fun ways we can liven up our devotional times. If you love making things with your hands or simply enjoy getting creative, then the following tips are just for you.
Consider these resources:
Verse-mapping – I recently heard of this from Betsy at Faith Spilling Over and have been intrigued ever since. This is a fun way to dig deep in God's word. The picture below is from one of Betsy's devotional times where she used verse-mapping. Doesn't that look like fun? You can read how she does it here.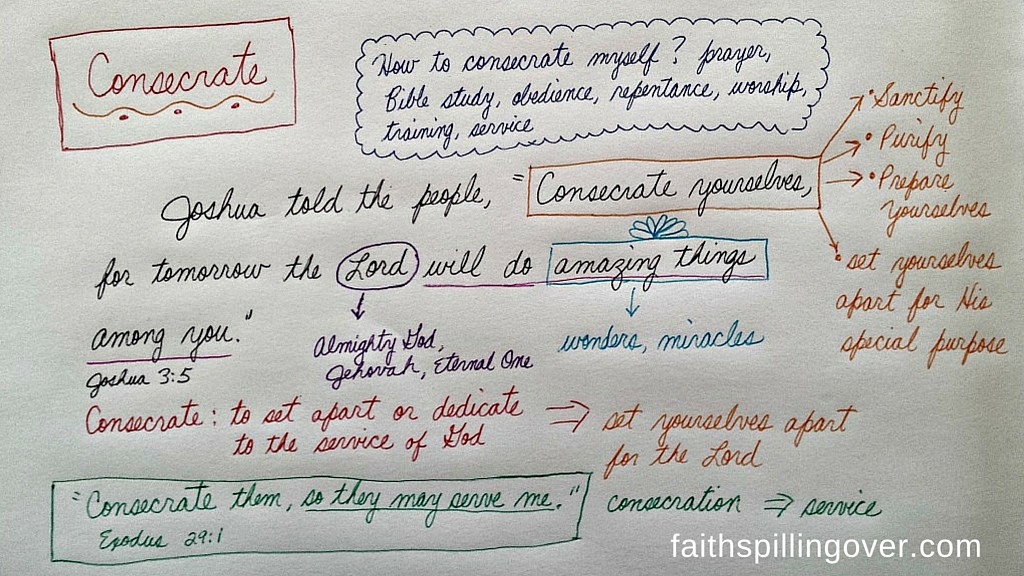 Scrapbook Journaling – this is another way to use your creative flair to connect with God. Johanna at Devoted to Maker shows just how she's been adding a spark to her devotional time using scrap-book journaling. The beauty that she creates through her scrapbook journal is in itself a way of worshiping God.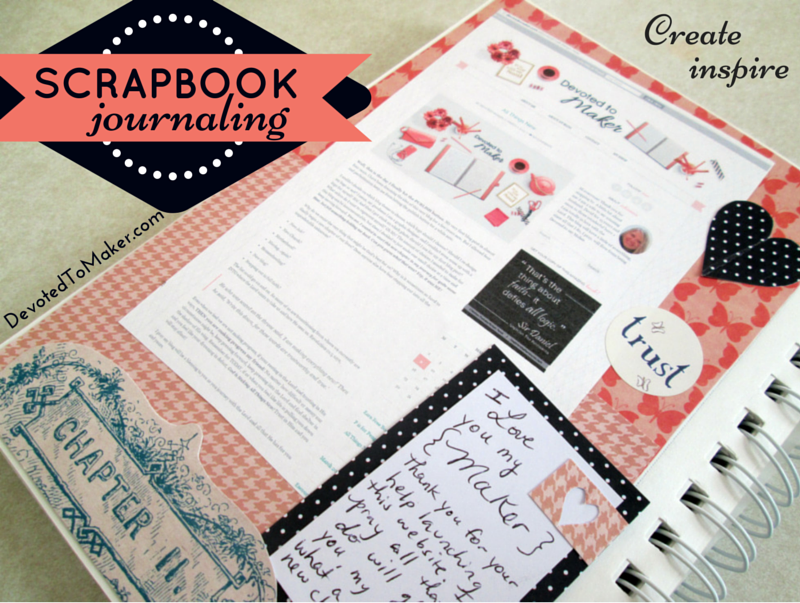 I encourage you to use your learning style to awaken your quiet time. No matter your learning style, there's something that you can try today to help you reconnect with God. I'm sure it will rekindle a spark and I'd love to hear how it goes.
Your turn
How do you use your learning style to wake up your time with God?
Which of these resources will you try next?
If you enjoyed this post, I'd really appreciate if you would pin it on Pinterest or share it on Facebook so that your friends might also be blessed by it. Both of these are great ways to spread the shine!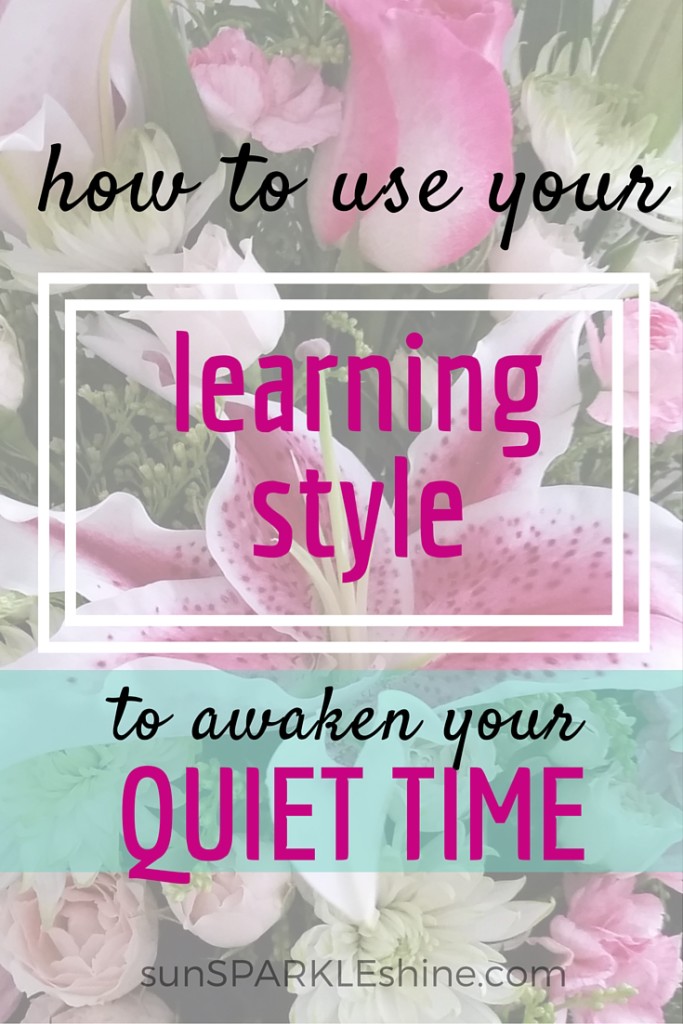 Wishing you blessings!


I share the love by linking with these amazing sites.