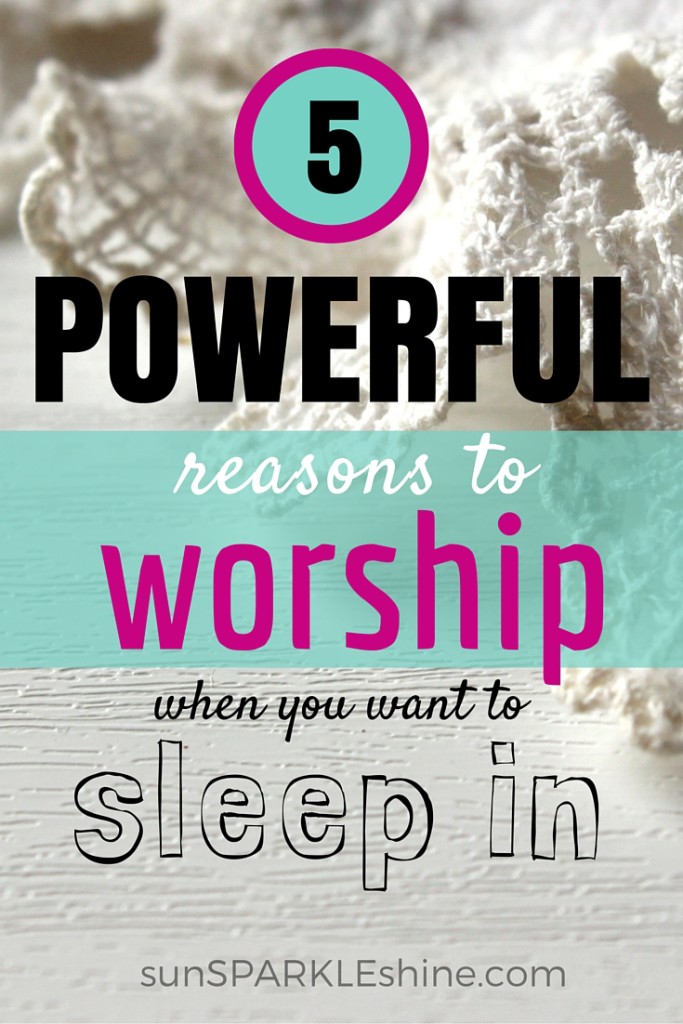 It's dark outside as I creep gingerly from my bed. Trying not to wake my husband, I gently close the bedroom door and stumble my way to the office. It's 5:10 a.m. This is my time.
I crave this time to be alone with the Lord.
With a busy family, multiple responsibilities, and an ever expanding to-do list, I have to jealously guard my devotional time.
The truth is, every morning doesn't look the same. I have this goal to make it more of a routine — a habit. But life just happens. And I have to fight to make this time consistent. Meaningful. And when I do, it is oh so worth it.
There are mornings that I don't feel like getting up. I'm sure you can relate!
So what is it that gets me out of bed in the mornings?
Here are 5 reasons I rise to worship God.
God loves me
God loves me with an intense love. So much that he chose to give up His one and only son for me.
For God so loved the world, that he gave his only Son, that whoever believes in him should not perish but have eternal life. John 3:16

God forgives my sins
Knowing that I can stand anew before God, in spite of all the wrong I have done is more than reason to celebrate!
In him we have redemption through his blood, the forgiveness of sins, in accordance with the riches of God's grace. Ephesians 1:7

Repent, then, and turn to God, so that your sins may be wiped out, that times of refreshing may come from the Lord. Acts 3:19
God is Sovereign, and yet…
God made "the world and everything in it". He is all powerful, all mighty, all everything!
It might be tempting to wonder like David, 'why would the creator of the entire universe care about little ol' me? (Psalm 8:3-4).
For God, it's not a matter of need. He doesn't need me to complete His plan. Yet, he created me at a specific point in time and put me exactly where He wanted me to be. He did this for you too. Just so we would reach out to Him and find Him. Acts 17:24-28
God fills me up
Every hunger, every thirst, God satisfies.
You, God, are my God,
earnestly I seek you;
I thirst for you,
my whole being longs for you,
in a dry and parched land
where there is no water.

I have seen you in the sanctuary
and beheld your power and your glory.
Because your love is better than life,
my lips will glorify you.
I will praise you as long as I live,
and in your name I will lift up my hands.
God delights in me
When I think of God, I have this image of a mother singing a sweet lullaby to her baby. That intense love and joy is what God experiences when He thinks about me.
For the Lord your God is living among you.
He is a mighty savior.
He will take delight in you with gladness.
With his love, he will calm all your fears.
He will rejoice over you with joyful songs. 
I get to choose worship
Recently I heard this quote from Michael Hyatt that says, "Inspiration doesn't show up until you do." In the same way, praise doesn't show up until I do.
If God wants he can make the very rocks shout out and worship Him. Worship can certainly happen without me. Question is, will I be a part of it? If I want to experience God, I've gotta show up. I get to choose.
Your Turn
There are so many reasons to worship God! What about you? What gets you out of bed in the mornings to spend time with God? Why do you worship Him? Please share a few of the reasons you worship God in the comments below.
In the meantime, let us offer ourselves ready to worship Him! I hope this worship song inspires you. (View and listen here).
Wishing you blessings!

If you enjoyed this post, I'd really appreciate if you would pin it on Pinterest or share it on Facebook so that your friends might also be blessed by it. Both of these are great ways to spread the shine! 
I share the love by linking with these amazing sites.