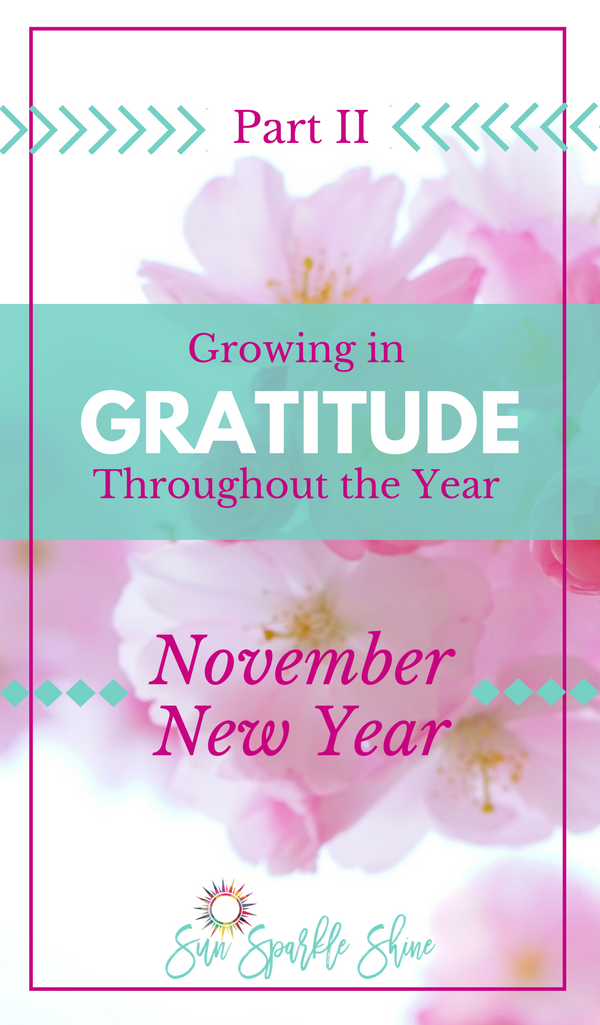 As we get ready for Thanksgiving, are you thinking about some of the things you're grateful for?
I recently shared 5 tips to help you keep growing in gratitude throughout the year. Now I'm focusing on things we can give thanks for and how to keep up the gratitude habit way past Thanksgiving.
Before you read on, I think that you should know that I have declared November as the new, New Year. (Perhaps the title of this post give it away already, huh?) 🙂
Sure, January 1st has its place but there's something about November and the month of Thanksgiving that I find truly renewing.
You see during November, quite a few of us spend the weeks leading up to Thanksgiving creating new and fun ways to give thanks. We go through what we might call a gratitude adjustment. But here's a question: why stop there?
There is no good reason, why giving thanks should end with Thanksgiving. We can (and should) go through the entire year growing in gratitude.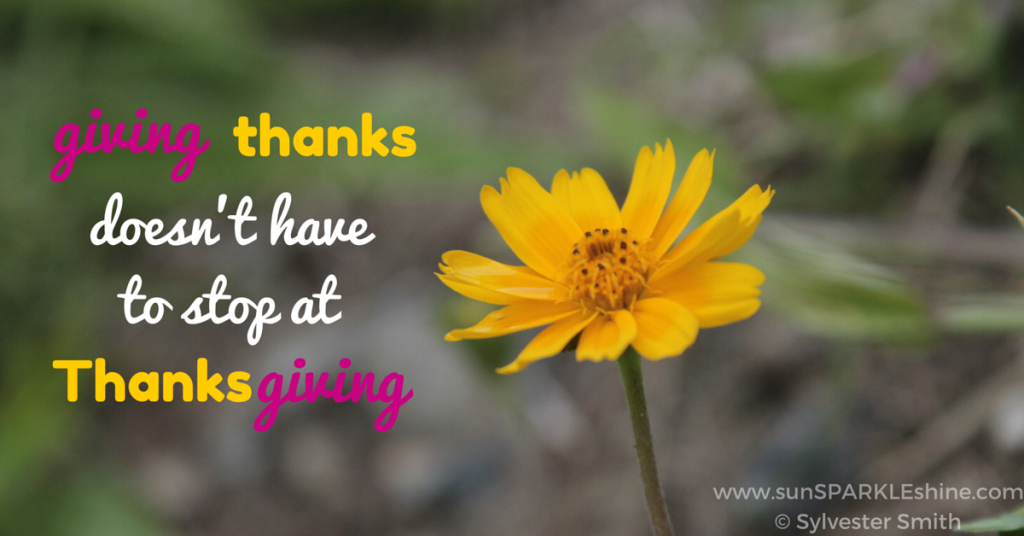 Keeping up the gratitude habit:
I think we all agree that we should be continually grateful. The bigger question perhaps, is how do we keep it up? This business of giving thanks.
There are countless gratitude journals and books that promise to help us with this. I would know, I have a few of them. As a matter of fact, I recently pulled out my Daily Gifts gratitude journal (aff), to see how I was doing with recording my blessings. You can read about my 'progress' in Part 1 of this post.
I wish I could say that I had all the solutions and had mastered continual thanks in my life. Sadly I haven't, and it's clear that I need this post just as much as you do. Perhaps we can learn and grow together. And share our victories along the way.
One thing I do know is that the number one reason we don't give thanks continually is because we forget.
We forget our blessings.
We forget where we've been.
We forget God's promises.
We simply, forget.
So the idea of a gratitude journal definitely has merit. Keeping a record of our blessings can surely help us remember what they are. And journaling gives us the opportunity to thank God for them.
The thing that will help us remember to pick up that journal, is a deep and abiding relationship with Christ. When we stay close to Christ, when we live in Him, we will overflow with thankfulness.
So then, just as you received Christ Jesus as Lord, continue to live in him, strengthened in the faith as you were taught, and overflowing with thankfulness.

– Colossians 2:6
Did you get that? Overflowing! With thankfulness.
Biblical Reminders
To help us overflow with thankfulness, I've made a list of a few things we should be grateful for based on Scriptures. Keep this list nearby and choose one to pray through each day to remind you to give thanks.
I am thankful for:
God's goodness
Give thanks to the Lord, for he is good; his love endures forever. 1 Chronicles 16:34
God's righteous law
At midnight I rise to give you thanks for your righteous laws. Psalm 119:62
God's wondrous deeds
I will give thanks to you, Lord with all my heart; I will tell of all your wondrous deeds. Psalm 9:1
Answered prayers
I will give thanks, for you answered me; you have become my salvation. Psalm 118:21
Faithful friends
I have not stopped giving thanks for you, remembering you in my prayers. Ephesians 1:16
Victory through Christ
But thanks be to God! He gives us the victory through our Lord Jesus Christ. 1 Corinthians 15:57
Jesus' sacrifice on the cross
And he took bread, gave thanks and broke it and gave it to them, saying, "This is my body given for you; do this in remembrance of me." Luke 22:19
The freedom to gather together to give thanks
I will give thanks in the great assembly; among the throngs I will praise you. Psalm 35:18
Everything!
Give thanks in all circumstances, for this is God's will for you in Christ Jesus. 1 Thessalonians 5:18
Your turn
What about you? What are some things you're giving thanks for? How do you plan to keep growing in gratitude throughout the year?
P.S. This is Part 2 of a two-part series. Did you miss Part 1? We have you covered! If you sign up for Sparkle updates you'll never miss another post. For now, you can read Part 1 here.
P.P.S. I hope you enjoyed this post. If so, would you be so kind and share it with a friend? We love to spread the shine and hope you would too!
You might find this post linked with one or more of these amazing sites.