Happy New Year, friends!
It feels good to be back after a lovely two weeks off enjoying the Christmas holidays with my family. This year we tried something different and traveled to a winter wonderland with our extended family. We had a marvelous time! One of the highlights was that the kids got to experience snow for the first time and for us sun birds that was a real treat!
Then something happened.
I came back home. Reality hit. All of a sudden, the vacation was over. Within two days of returning home, the kids started school. The next day my husband returned to work, and then…well…life is already full speed ahead.
Where did the holidays go? Weren't we opening presents just yesterday?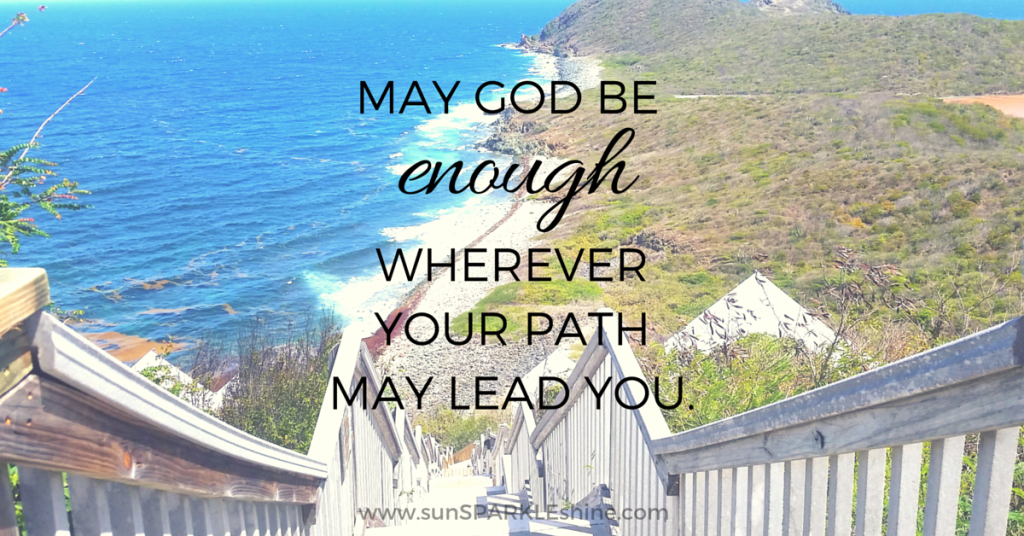 New Year, old me
I wish I could say that I had all my New Year plans and goals lined up like ducks in a row. Truthfully, my New Year started out with a bang yes, but in a way that left me feeling a little unprepared. Ok, maybe a lot unprepared.
You see, I'm a planner at heart. It drives my husband mad, but if you know me, you know that I like to have a plan for just about everything. I like to know where I'm going. I like to know what to expect next. I like the predictability of the next item on the list. (I'm a list-maker too).
As you can imagine, God really has a good laugh at me sometimes, because life doesn't always run so smoothly. At least, certainly not according to my plans anyway. And trust me, that's a good thing.
Yet, starting the New Year in such a frazzled state has left me reeling. I feel this incredible conflict between the desire to pause (and plan) and the drive to rush out and conquer 2016!
The Next Step is Enough
Even though I'm not a New Year's resolutions kinda girl, I will be making some plans for 2016 using Grace Goals*. Whatever I do for the year will be guided by my One Word. (You can read here to find out how I approach my New Year using Grace Goals, my One Word and a vision board).
The word that God has put on my heart for 2016 is 'ENOUGH'.
Enough: occurring in such quantity, quality, or scope as to fully meet demands, needs, or expectations (Merriam-Webster Dictionary)
I just love that! God wants to show up in my life in such a way that I know my demands, needs, expectations, have been FULLY met. And that it was all because of Him.
I feel blessed to think that God is, and will be, ENOUGH for me. I can already imagine how ENOUGH will play out in my life this year. I think about the times when I'm distracted by the many things vying for my attention. Then I can remember like Mary, in Luke 10, that only one thing is needed: to sit at Jesus' feet, because He is ENOUGH for me.
But I have to admit that there is this quiet fear that lurks in my mind about my word ENOUGH. Questions swirl and I ask myself, 'what will God take me through this year to teach me this lesson?' And, 'what will I have to give up or lose in order to really know that He is ENOUGH?'
But I tell you this, I will not give in to fear.
For God has not given us a spirit of fear, but of power and of love and of a sound mind. (2 Timothy 1:7)
And so, I accept the spirit of power that God has given me and I embrace my word boldly.
If God has chosen this word for me, He will see me through it.
Instead of being overwhelmed, I will move forward and do the next right thing.
I will trust that God will give me just ENOUGH for that next step, just as he did for the Israelites. What an amazing example of ENOUGH the book of Exodus provides for us. For the next month (and possibly beyond) I will be studying Exodus and learning from the Israelites' example.
I can't pretend to know what God has in store for me this year. Even the best-laid plans cannot predict where He will lead me, what challenges will arise, or what blessings will follow. But I do know this: in 2016, my God will be ENOUGH for me!
What about you?
Will He be the one thing you will lean on this year? Will you look to everything else but him to fulfill your needs and desires? Or will you allow him to be ENOUGH for you?
If you'd like to join me in studying the book of Exodus, there is a great Bible study happening right now for the month of January on the First 5 App. You can find out more here and download it on your mobile device for free.
If you enjoyed this post, why not share it with a friend using one of the share buttons below? We love to spread the shine and hope you would too!
I'm sharing this post with the 2016 Blog Hop at Create with Joy and some of these other amazing sites.
* I am an affiliate for Grace Goals. If you choose to purchase using my link, you get a revolutionary way to plan your New Year and I get a commission. That way we all win! Thank you. 
May you continue to sparkle in 2016 and may God be enough for you!