Today is a beautiful Monday in Spring and I've been inspired by my friends at the #TakeTime linkup to write about Spring and new beginnings.
Whether it's Mondays, Springtime or a New Year, we can be witnesses to the joy of new beginnings. We get to choose the attitude that we will have, today, and any day of the year.
Here are some of the things that inspire me about Spring and new beginnings.
God is doing a new thing
Forget the former things; do not dwell in the past. See, I am doing a new thing! Now it springs up; do you not perceive it? I am making a way in the desert and streams in the wasteland.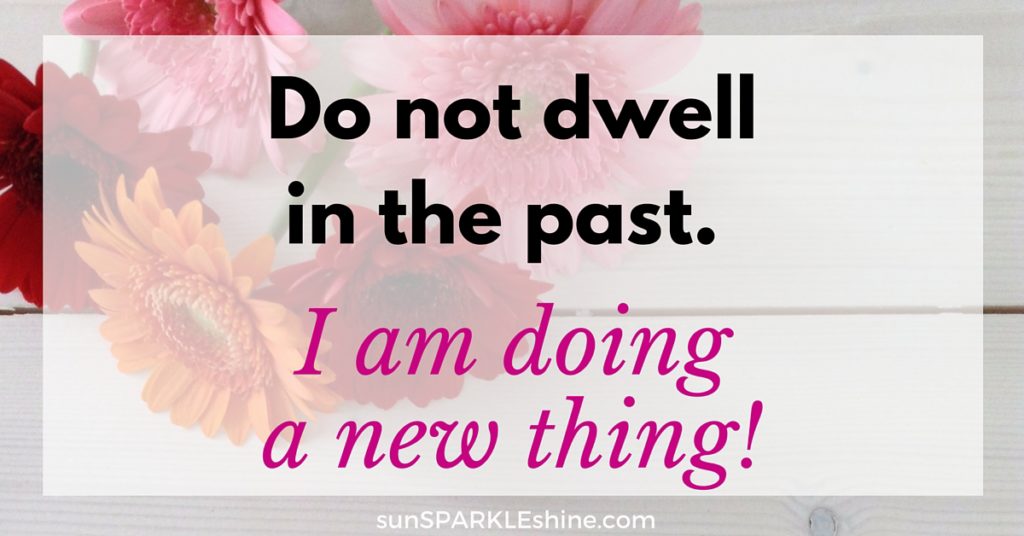 I just love this verse! It reminds me that even when I don't see it, God is behind the scenes working on my behalf. He is making a path where there was none. He is creating something completely new!
It doesn't matter if you've left your New Year's resolutions by the wayside weeks ago. Yes, it's true that many of us have already forgotten the promises made and goals set. But may I remind you? God is a god of new beginnings. And with Him, it's never too late to start over!
What area of your life needs a new beginning?
Is it your marriage, finances, your health, your friendships? Maybe it's your heart.
You can start by choosing to commit this area of your life to God. I suggest you take some time to get away and refocus. Pray, pray, pray and look forward to the new thing that God will do.
Grab this free worksheet for some extra inspiration to help you create your new beginning and keep track of your prayers.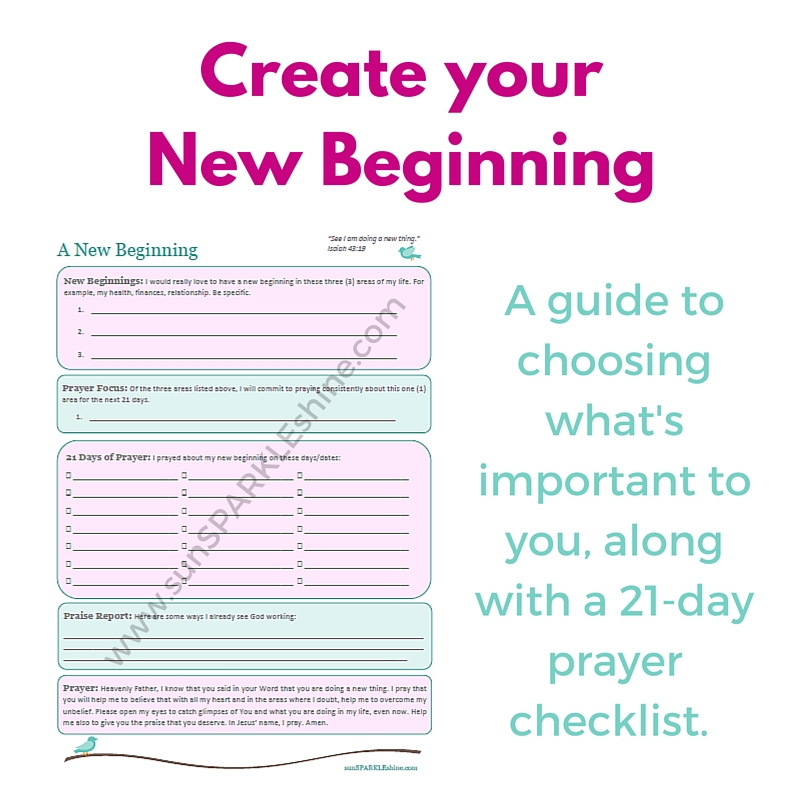 Do you see it?
Even though God might be moving, we often have a hard time seeing what He's doing. For many of us, seeing is believing. And we also believe the opposite to be true: If I don't see it, I won't believe it.
God knows that we are weak in this area. He knows that we are looking for a physical manifestation in order to believe that He's doing something new.
In John 4:35, Jesus had to say to His disciples, "Open your eyes and look"!
Today we need to ask God to open our eyes. We may not be able to see what He's doing with our physical eyes but we can ask him to help us see with our spiritual eyes.
God what new thing do you want me to see today?
Spring is the perfect time of year for new beginnings and fresh starts.
If you're still not convinced, I encourage you to look around and see the flowers as they spring up. The new blossoms on the trees are budding with hope.
We too can walk with that new hope. You too can have a new spring in your step.
Allow the beauty of the Spring flowers to remind you of God's power and grace. He is doing a new thing. He's doing it for me and He can do it for you too!
What about you?
What new thing is God doing for you right now?
In what areas of your life do you see Him working?
Do you need someone to pray for you? I'd be happy to pray on your behalf.
To download your free New Beginnings worksheet just click on the button below. It will help you pick one thing to focus on and pray about for the next 21 days. God is not a magic genie who's there to grant your every wish, but he does want us to commit our plans, our dreams and our new beginnings to him. Let's do this together!

Wishing you blessings, 

If you enjoyed this post, you might also enjoy these:
Please spread the shine and share this with your friends using the share buttons below. 
I love linking up with these amazing sites.