Talk to me about shipwrecked goals and dreams and I'll quickly tell you I can relate.
I'm not going to pretend that I'd win a competition if there was one, but I can assure you that I have some stories of my own. I can think of a time or two (too many) when life has knocked my dreams about.
Not too long ago my dreams were left by the wayside, put on hold in the face of survival.
We don't like to talk about our dashed dreams, do we? It's messy, uncomfortable and yes, downright painful.
We start to associate our broken dreams with pain, loss and suffering. And the truth is they often are.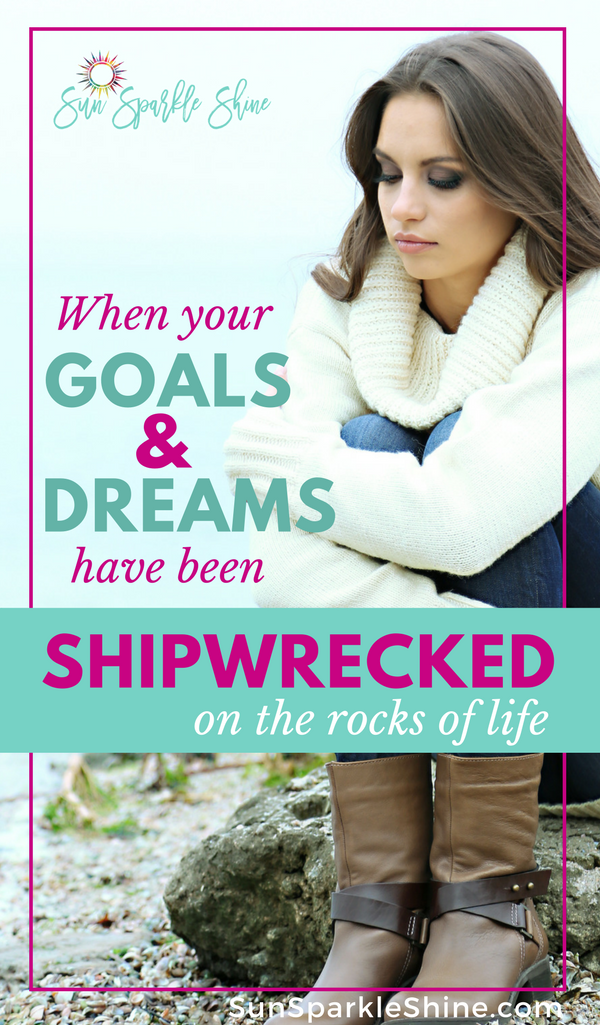 But, friend, what if we looked at our lost dreams in a different way?
Think about how Paul suggested we should approach our sufferings:
Therefore, since we have been justified by faith, we have peace with God through our Lord Jesus Christ. 2 Through him we have also obtained access by faith into this grace in which we stand, and we rejoice in hope of the glory of God. 3 Not only that, but we rejoice in our sufferings, knowing that suffering produces endurance, 4 and endurance produces character, and character produces hope, 5 and hope does not put us to shame, because God's love has been poured into our hearts through the Holy Spirit who has been given to us. Romans 5:1-5 ESV
Are you rejoicing over your lost dreams? It almost seems insulting to suggest it.
I have to tell you, rejoicing isn't the first thing that comes to mind when I think about my broken dreams. Far from it.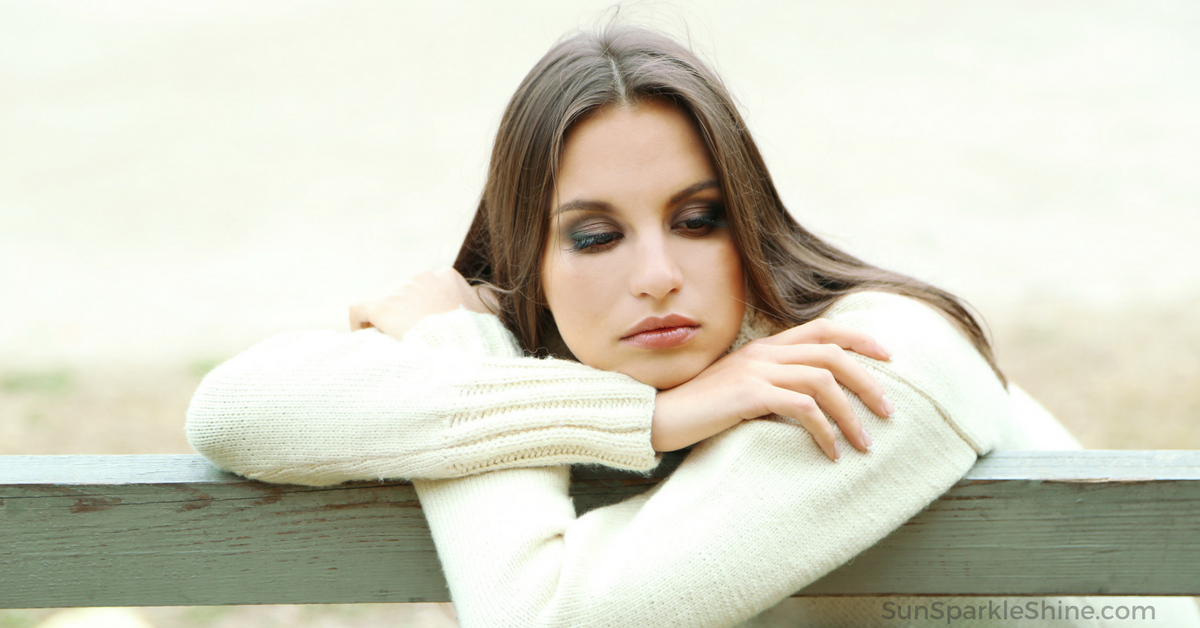 But what about this one in Isaiah 61:1-4 ESV?
The Spirit of the Lord God is upon me,
    because the Lord has anointed me
to bring good news to the poor;
    he has sent me to bind up the brokenhearted,
to proclaim liberty to the captives,
    and the opening of the prison to those who are bound;
2 to proclaim the year of the Lord's favor,
    and the day of vengeance of our God;
    to comfort all who mourn;
3 to grant to those who mourn in Zion—
    to give them a beautiful headdress instead of ashes,
the oil of gladness instead of mourning,
    the garment of praise instead of a faint spirit;
that they may be called oaks of righteousness,
    the planting of the Lord, that he may be glorified.
4 They shall build up the ancient ruins;
    they shall raise up the former devastations;
they shall repair the ruined cities,
    the devastations of many generations.
Many of those words resonated with me.
Brokenhearted, mourning, faint spirit, ruins.
But friend, this is what God wants to offer us instead:
Good news.
Liberty.
Favor.
Beauty
A garment of praise.
Those are the words I'm holding on to.
Two months ago I lost the life I knew and with it went a few goals and dreams. My home, my country, my family, my job, my life, have all been turned upside down. But you know one thing I haven't lost?
My purpose.
With my faith anchored in Christ, it makes all the difference. Even with my goals and dreams shipwrecked, my purpose remains.
Now more than ever, God has stirred up a fire within me to live life on purpose. A life of meaning, a life of value and a life of hope. A life that makes a difference.
I am on a mission to spread this hope to you too. If you've lost sight of your goals and dreams, don't lose sight of your purpose.
Your purpose is still there, settled deep within your soul.
It might need to be stirred, but it's still there.
God has something better in store for you. In place of your old goals and dreams, God wants to give you something better.
Rather than mourn the dreams I lost, I'm dreaming again and embracing new possibilities.
If you're passionate about rekindling your purpose too, I'd love to journey with you.
I'm inviting a few friends along to make 2018 their year to live on purpose.
I'll be using my Spark Success planner to open my mind to all the possibilities God has before me. Get your copy of the planner and I'll come beside you to brainstorm your goals and dreams for 2018*.
I'll help you rekindle the spark of purpose that God put inside you.
I know life has been overwhelming and maybe even painful at times, but your purpose is still there, and I'm going to help you reclaim it.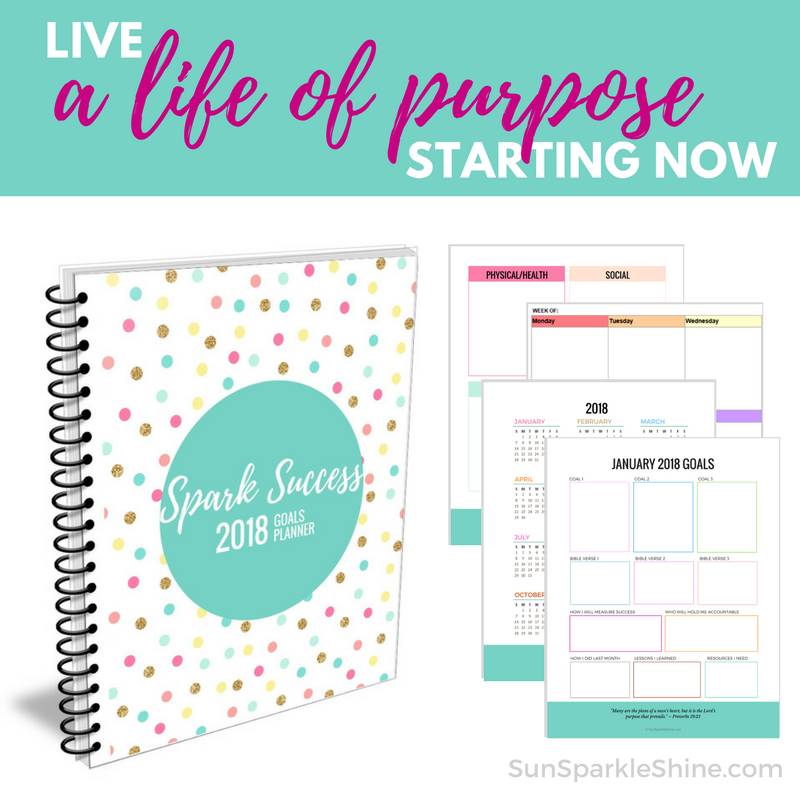 God wants you to dream even bigger than before. And I can't wait to see the amazing things He'll do in and through you.
I know that my old dreams will be nothing compared to my new ones.
Remember?
Beauty for ashes.
All so that God can be glorified. How exciting is that?
Let's decide to dream big and walk in purpose, together!
Wishing you blessings, 

*P.S. As much as I wish I could meet with everyone who buys the planner, I'd rather focus on quality over quantity. I'm committed to helping ten women reclaim their goals and dreams so that they can walk in purpose.
Will you be one of them?
Start by getting your Spark Success goals planner here.


If you enjoyed this post, don't keep it to yourself. Please spread the shine and share this with your friends using the share buttons below. 
And if you're looking for more encouraging and inspiring content, check out these amazing sites where I link up my weekly posts.