Ours was a fairy-tale romance.
So when he asked me to marry him, I was over the moon.
He chose an ordinary day in December 2002 and no day has been ordinary since.
Yet, when it comes down to it, there is one who loves me even more.
He waits patiently in the wings. Never pushy; simply waiting his turn.
And he can afford to wait as long as it takes. He knows that his is the love I've been looking for all my life.
Sure, I might have gotten caught up in the fairy tale, but the truth is, I've found something even better.
And as much as my husband loves me, there's just no competition.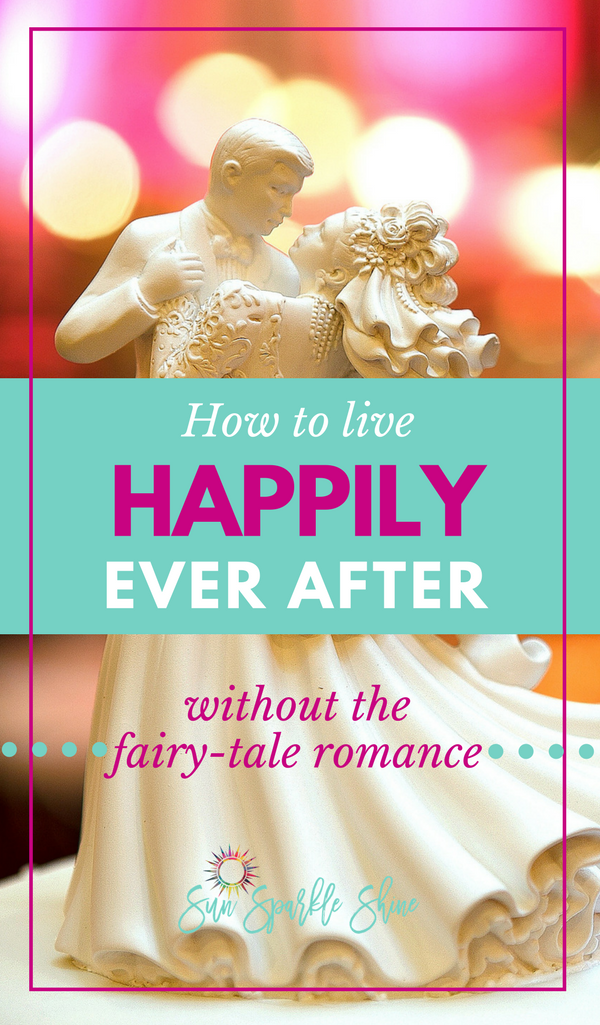 What's better than a fairy-tale romance?
If you've been looking for a fairy-tale romance, let me introduce you to my God.
God's love is incomparable – Psalm 86:8
Among the gods there is none like you, Lord; no deeds can compare with yours.
God's love is unfailing – Psalm 147:11
the Lord delights in those who fear him,
    who put their hope in his unfailing love.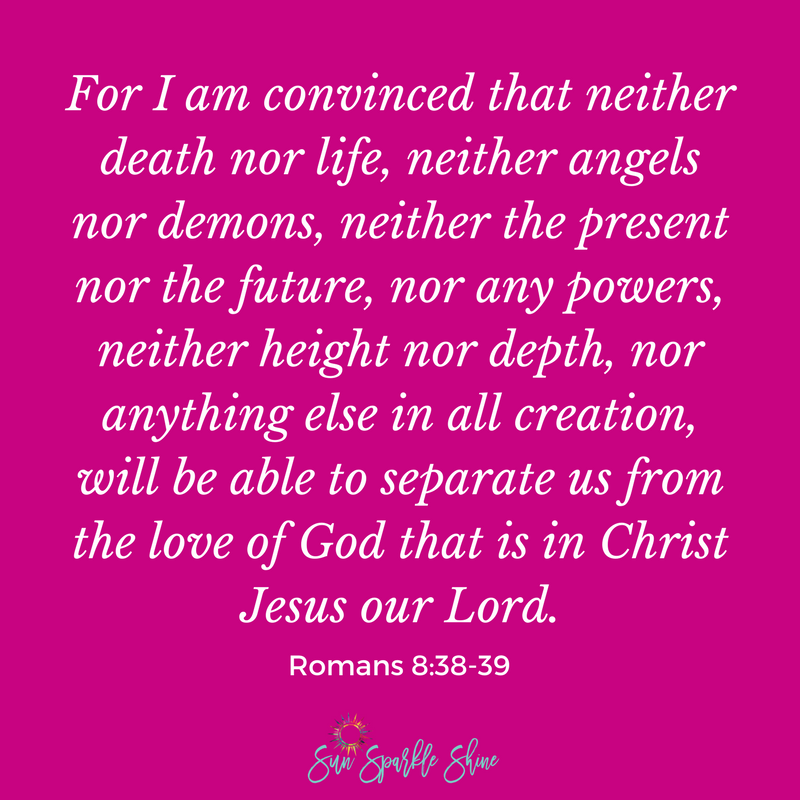 God's love is compassionate – Psalm 145:9
The Lord is good to all; he has compassion on all he has made.
God's love is better than life – Psalm 63:3
Because your love is better than life, my lips will glorify you.
God's love is sacrificial – 1 John 4:10
This is love: not that we loved God, but that he loved us and sent his Son as an atoning sacrifice for our sins.
God's love is everlasting – Psalm 100:5
For the Lord is good and his love endures forever; his faithfulness continues through all generations.
God's love is immeasurable – Psalm 103:11
For as high as the heavens are above the earth, so great is his love for those who fear him;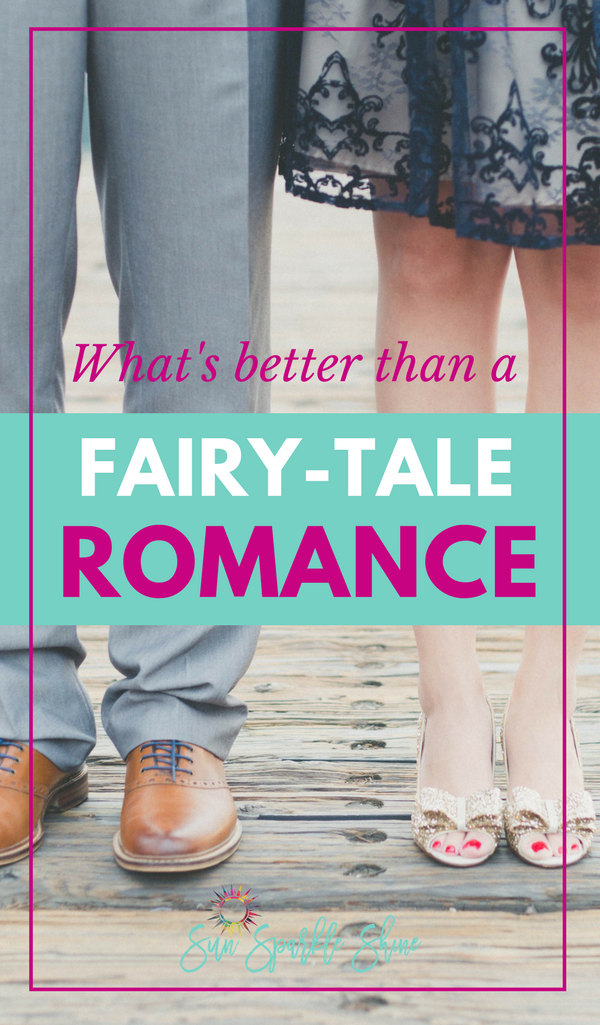 God's love is patient – Joel 2:13
Rend your heart
    and not your garments.
Return to the Lord your God,
    for he is gracious and compassionate,
slow to anger and abounding in love,
    and he relents from sending calamity.
God himself is love – 1 John 4:8
Whoever does not love does not know God, because God is love.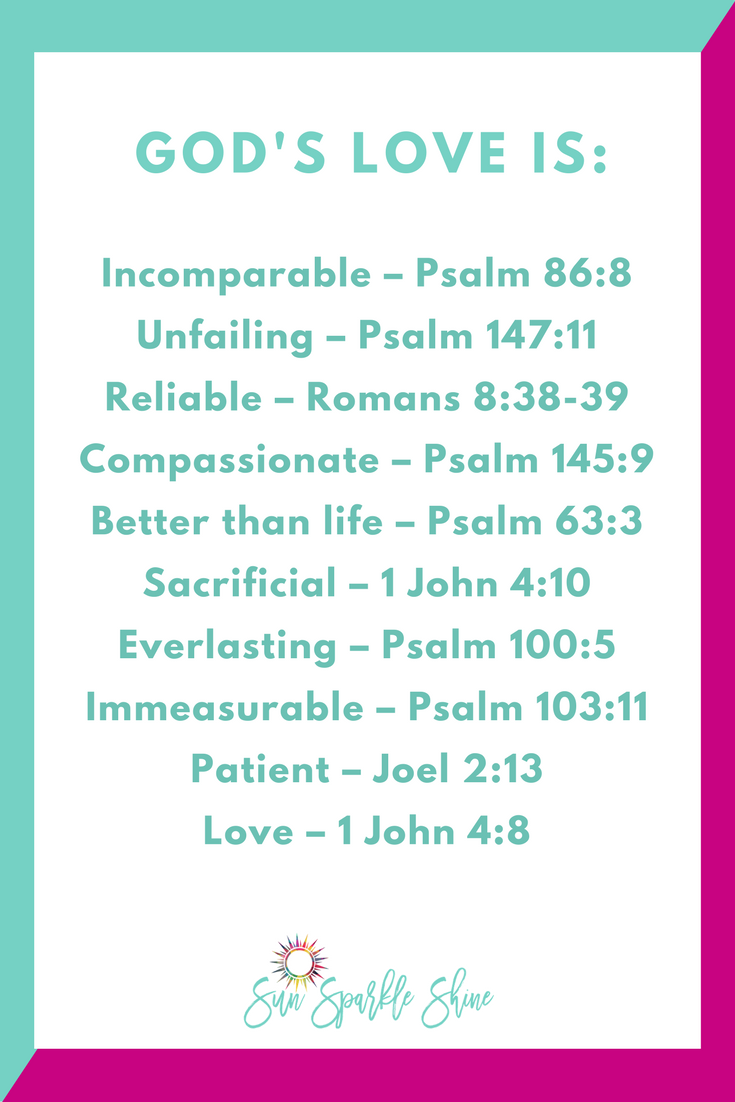 So you see, there's really no competition. As much as my husband loves me, I have a God who loves me more — completely. And knowing that truth makes every fairy-tale romance pale in comparison.
What about you?
How would you describe God's love for you?
Don't worry, if you have a hard time finding the words, you're in good company. This beautiful song by Laura Story reminds us of how amazing, yet indescribable God's love is. Watch the video for the song Indescribable here.
Wishing you blessings, 

Please spread the shine and share this with your friends using the share buttons below. 
And if you're looking for more encouraging and inspiring content, check out these amazing sites where I link up my weekly posts.
---
Ready to shine brightly this year?