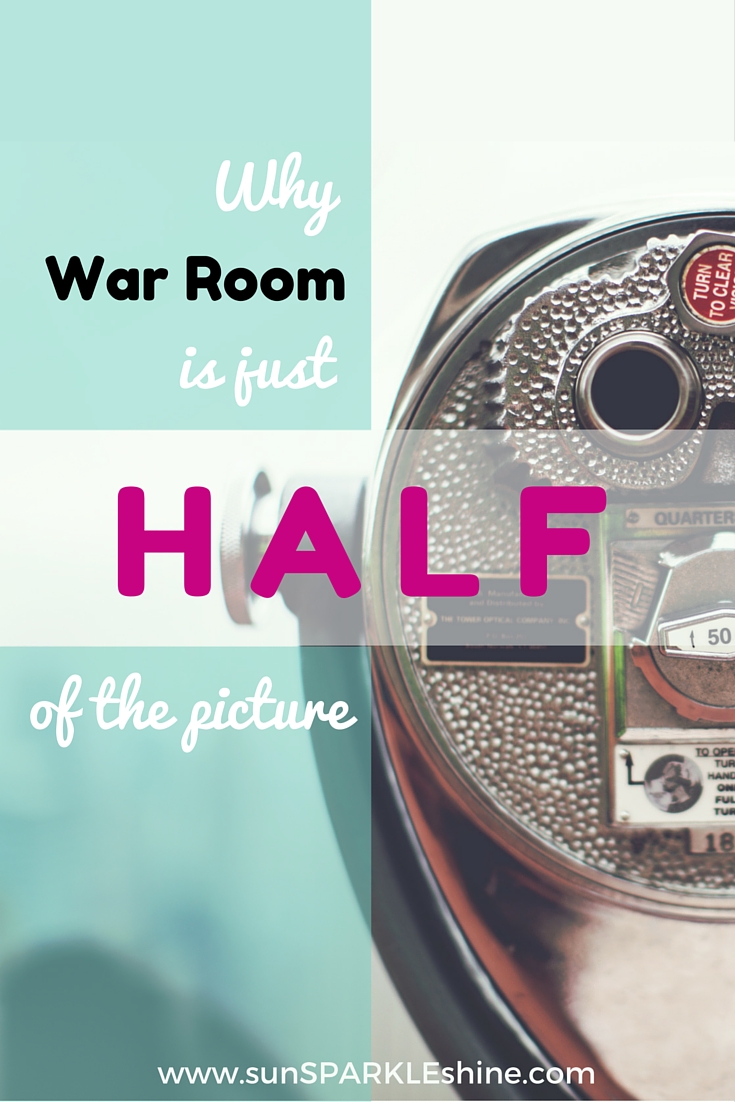 Have you ever spent time reflecting on a particular verse in the Bible only to find that you missed half of the point? Okay, so maybe, I'm the only one who has done that, but I'm going to step out in the open and be real anyway. If by chance you can relate, feel free to 'Amen' your way right through this post.
You see, last year I claimed John 10:10 as my verse for the year. "I have come that they may have life and have it more abundantly." I was inspired by the conviction that Jesus came to give me a full life. So inspired in fact, that John 10:10 remained my verse for a second year. One of the reasons I chose this as my theme verse is that it emphasizes the word "full" which is my one word for the year. I even created an entire vision board around my one word and theme scripture.
Well fast forward to yesterday when I finally got to see the War Room movie. (I know I'm late but here in the islands, we tend to be a bit behind with our movie showings).
In the movie, I was so excited to hear Ms. Clara, one of the leading characters, refer to my theme scripture. I felt like I was part of a special fraternity.
But wait a second, something was missing. Not from Ms. Clara but from me!
When I think about John 10:10, my mind immediately goes to the word…you guessed it, FULL. I focus on the part of the verse that talks about the full life that I have in Christ. Yet, while Ms. Clara used the same scripture, she mentioned a part of John 10:10 that I had almost forgotten. (I have to confess that when I got home from the movie I had to check my bible to see if what she said was actually John 10:10 or maybe the verse before it. Talk about convicted!)
The thief comes only to steal and kill and destroy;

I have come that they may have life and have it more abundantly.

– John 10:10
What makes John 10:10 so powerful is that it presents Jesus' role in direct contrast to the devil's scheme. Satan is intent on doing whatever it takes to break down the family unit, steal our joy, distract our minds, discourage our hearts, you name it. Whereas, Jesus, by defeating Satan, is able to protect and if necessary, restore all that we risk losing.
I realised that in trying to focus on the positive, happy-go-lucky part of the scripture, I had missed the boat. The reason I can have a full and abundant life is because Jesus won the battle over Satan's schemes to steal, kill and destroy me and all that's mine! Light is made possible by darkness. What a revelation!
Watching a movie like War Room and thinking it was a 'nice' movie without allowing it to inspire change is like me and my limited view of the scripture. War Room itself is just half of the picture. The other half is the action it inspires me to take and the change that comes as a result.
For me, that means taking the entire bible into context, not just the bits that sound nice and encouraging.
If you're wondering what action you could take to make the picture complete, I just might be able to help you out. Here are a few good reads based on insights from War Room and themes related to the movie:
And for those times when your War Room prayers aren't going the way you expect, my friend Ruthie has this to share:
Your turn:
What action did War Room inspire you to take?
Have you ever focused on one part of scripture only to find that you missed a key point? It's okay, you can tell me, you're in good company. 🙂
If you liked this post, please share it with a friend using one of the share buttons below. Plus you can sign up for Sparkle Highlights so that you never miss a new post! When you do, I'll send you a free copy of my P.R.A.Y. prayer and scripture cards. How exciting is that?!
Wishing you blessings,


While you're here, I think you'll enjoy these other great posts: